Flo Rida Sued By Former Assistant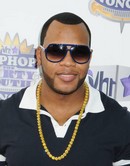 Rapper Flo Rida is facing a lawsuit from a former assistant who claims she was fired after she complained about working long hours for low pay.

In a new lawsuit, Mahogany Miller alleges she began working for the hip-hop star as his administrative assistant back in August and put in around 65 hours a week for just $3.08 an hour.

She alleges she was sacked less than a day after she complained about the hours and pay, according to TMZ.com.

Miller is suing for unspecified damages.