Flo Rida Avoids Prison Over DUI Case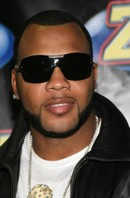 Rapper Flo Rida has escaped jail following his arrest in June on suspicion of driving under the influence.

The hip-hop star, real name Tramar Dillard, was pulled over by cops while driving his $1.7 million luxury Bugatti sports car after police saw the vehicle swerving between lanes in Miami Beach, Florida.

He was taken into custody after reportedly failing a roadside sobriety test and was booked for DUI and driving on a suspended license, but was released after posting $2,000 bail.

On Monday, an attorney for the Low hit-maker convinced a judge to send the star to a first-time offenders' program instead of handing him a stint behind bars.

Editors at TMZ.com report Dillard will now have to complete the Back on Track course, which will include substance abuse classes, community service, and drug tests.

If he successfully completes the program, prosecutors will downgrade the charge to reckless driving.