'Flipping Out' Star Jenni Pulos Back to Acting in 'Koala Kid'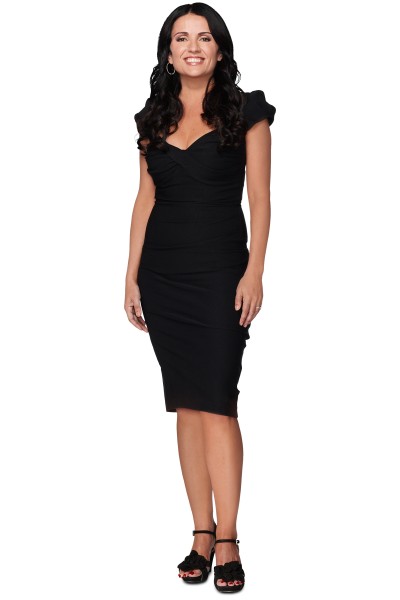 Jenni Pulos is best known as the assistant to Jeff Lewis on Bravo's reality show Flipping Out, but she also has an acting career. Jenni recently lent her voice to the animated feature Koala Kid, joining a voice cast that includes the legendary Frank Welker (Transformers Prime) and Alan Cumming (The Good Wife). BFTV recently chatted with Jenni about the film, and here's what she had to say about the other side of her career.
"Koala Kid is an outback adventure," said Jenni, who voices Charlotte in the movie. "I think there's so many different fun characters that are in their own way freaky - and I mean that in every good sense of the word. It's like this traveling circus, but it's also suspensful and it also has such heart. All the characters are so strong and fun and well developed and unique. You see the passion in the story. It's a great ride."
"It was very fun just to be in the company of such a great, rich cast. We kind of all did our parts independently so it's exciting to see it all come together," she continued. "It was fun to actually go in for the first time and see Charlotte alive, because she had been this creation in my mind, and then to see the animation come to life is a really great moment."
Does she have a favorite animated movie of her own? "I'm a big Pixar fan," Jenni told us, also naming Bugs Bunny, Tasmanian Devil and Spongebob Squarepants among her choices. "I just love cartoons in general, and I also love Electric Company and Schoolhouse Rock. I'm a big fan of that today as well as when I was young."
Jenni has a sizeable acting resume of her own - she currently has a role in a telenovela called Mia Mundo, which you can find on Telemundo - so we asked her to talk about some of her other projects. "There's so many different things. I guess I'm proud of all of it," she said. "I did Showtime at the Apollo which I think is unique. That's one of the greatest experiences I've had in performing, because that's a tough crowd. I went on with Jeff's brother and that was back in 2002 and we took the house down. And that has some history, the Apollo. Everything is a new wonderful experience. I also really enjoy working with Bravo, and I will say the 'Summer by Bravo' capaigns have been really fun for me."
"My love is acting, but I look it as I'm an entertainer really," she explained. "I've also learned a tremendous amount through Jeff about design and real estate which has been very rewarding. No matter the field you're in, if you want to do something else, there's something you can learn from where you're at.
"I hope that I can continue to do a lot of things. I don't want to be labeled," Jenni continued. "Look at Andy Cohen, he's a good example. Executive turned into a successful five-nights-a-week talk show host. I say more of that!"
Koala Kid is now available on DVD. You can also keep up with Jenni on Twitter (@JenniPulos).
(c)2013 Brittany Frederick. Appears at Starpulse with permission. All rights reserved. No reproduction permitted. Visit my official website and follow me on Twitter at @tvbrittanyf.