Flip This House: New Haven

'Flip This House': New Haven on A&E may not be considered a hot reality show, but it features the hottest reality show star, CT Homes acquisitions expert
Jeremy Black
. He's the cutest thing to grace this earth since Shiloh Jolie-Pitt! Yet, he doesn't seem to be that well known. We need to draw some attention to this boy! His boyish looks, slight dimples, butt chin, great style and facial scruff will spark your interest. After just one episode, you'll be hooked! Not only was he a former Abercrombie & Fitch model (which means it's likely we've all seen his bum) but he's smart, funny and has an amazing smile!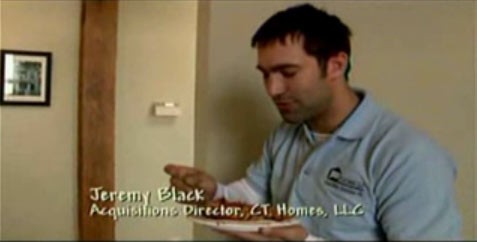 In one episode Jeremy strapped on a helmet and rode to the store on his tandem bike (a bicycle built for two) with a friend to get a window for the house they were renovating. He mentioned his concerns about being green and making sure all of the products used were safe for the environment. How could you not love him? The question remains though, is he single? If not, his girlfriend is one lucky gal. And if he is, why the hell hasn't someone snagged him? They should make a reality show spin off about him, or maybe just show more clips of him on the show. Although the entire cast of 'Flip This House' New Haven is adorable (Than Merrill, Paul Esajian and JD Esajian are cuties too -
meet the whole team
) Jeremy is the best eye candy on the show.
The New Haven crew is one of the newest additions to 'Flip This House', joining the show for seasons 3 & 4. Jeremy is 'Flip This House' co-star Than Merrill's right hand man in the search for good investment properties. He may be known for his good looks and charismatic charm but Jeremy is making a splash in the property flipping business. The New Haven team featured on 'Flip This House' is established by Than who was once in the NFL. He joined forces with Paul Esajian and they created their real estate business, CT Homes. Paul persuaded his brother, JD, to join the business along with Jeremy, who is the latest addition to this team (www.propertyflippinginfo.com).
If you'd like to check Jeremy out, and I guarantee you you'll be happy when you do, 'Flip This House' is on Saturday mornings on A&E. If you aren't into real estate you may not find the show too interesting, but Jeremy will hold your attention!
Story by
Erin Demchak
Starpulse contributing writer