Flea Overjoyed By Student He Taught To Play The Trumpet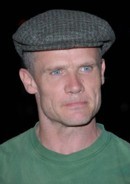 Red Hot Chili Peppers star Flea showed his soft side by breaking down in tears as he told of his work helping underprivileged children.

The bassist was also a trumpet prodigy in his youth, and he was delighted to share his skills with a young student at California's Silverlake Conservatory of Music, a non-profit music school which he co-founded in 2001.

He later discovered the youngster had been accepted for a university course - and Flea wept with pride as he recalled the tale.

He tells Q magazine, "He was, like, 10. It was during a period when the Chili Peppers took six months off and I was there throughout. I was teaching him the trumpet.

"He was a kid who had been tossed around from foster home to foster home and he had a very difficult time paying attention. I kind of befriended him so I'd go pick him up every morning - he was living in this really f---ing rough orphanage... I'd see his little face, absolutely determined to get a sound out of this thing. That kid, the last time I talked to him was a few months ago and he's just gotten into USC (University of Southern California)."

Flea then broke down in tears as he recalled the story, admitting that he "gets emotional about it."

He adds, "To put it in terms of teaching, a little bit goes a long way."