Flavor Flav: 'No One In My Family Called The Cops On My Daughter'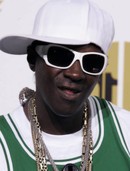 Hip-hop veteran Flavor Flav has jumped to his daughter Dazayna's defense following her arrest at the family's home over the weekend, insisting the drama was "a big misunderstanding."
 
Officials were called to the rapper's Las Vegas residence after an argument between the 19 year old and her stepbrother allegedly turned violent.

Early reports suggested the rapper got caught in the crossfire while trying to break up the fight, which prompted law enforcement officers to take the teenager into custody for misdemeanor battery on Sunday. She has since been released.
 
And now the Public Enemy rapper has broken his silence on the alleged domestic dispute, claiming the whole scene was blown out of proportion.

He tells TMZ.com, "The whole thing was a big misunderstanding that shouldn't have happened. No one in my family called the cops on my daughter and she did not beat me up. I love my daughter and will never let anything happen that could come between us."