Flaming Lips Beat Jay-Z's Record By Playing Eight Shows In Eight Cities In 24 Hours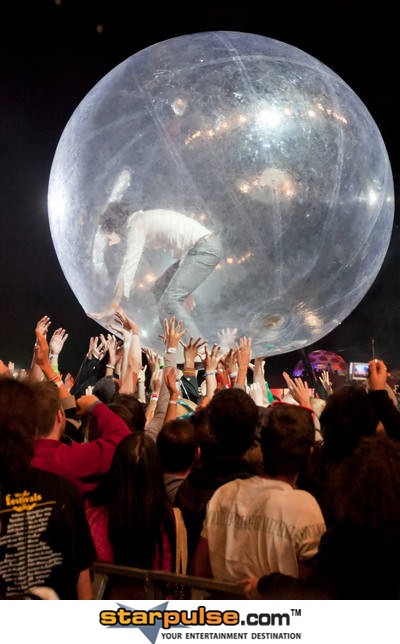 The Flaming Lips have one-upped rapper rapper Jay-Z's concert world record of performing seven shows in seven different cities in just 24 hours by performing eight shows in eight different cities in 24 hours.

The band kicked off their trek across the Mississippi Delta in Memphis, Tennessee, and finished up in New Orleans on Thursday. The one-day tour served as the backdrop for this year's third annual O Music Awards, which spotlight's the best in digital music. This year's awards took place online as a vintage tour bus named "Endeavor" took the band and organizers from venue to venue for the Lips' 24 hour gig.

During the shows, 24 awards were given out to artists like Selena Gomez (Best Artist with a Camera Phone), Karmin (Best Web-Born Artist), Tokio Hotel (Fan Army Award), 30 Seconds to Mars (Best Online Concert Experience) and Adam Lambert (Must Follow Artist on Twitter).

"To be published alongside the man who ate 22 pounds of his own boogers, beside the woman with the longest toenails or perhaps even to be published beside an individual who has had maybe 1,000 cockroaches stuffed into their ears... that, to me, would be one of life's absurd joys," said Lips frontman Wayne Coyne.

The band, which finished with 20 minutes to spare, was joined by other performers at each stop, including Grace Potter, who joined them for a cover of Led Zeppelin's classic "The Song Remains The Same"; Jackson Browne, who helped the band out with his tune "These Days"; and the Neon Trees

The band's stop in Jackson, Mississippi, was one of the highlights, where their three-song set included "Is David Bowie Dying"; off their latest album, "The Flaming Lips and Heady Fwends" (originally released for April's annual 'Record Store Day' and then re-released on Tuesday); followed by a cover of the Thin White Duke's classic "Heroes." The band ended their 20-minute set with their hit "Do You Realize??"

Check out performances by the Flaming Lips, Grace Potter and the Nocturnals, and more at the official site of the O Music Awards.




Rui M. Leal / PR Photos