Five Television Remakes We'd Like To See, But Probably Won't

Ahh, the remake. The feelings that are evoked when you hear that your favorite program from yesteryear is being re-thought, re-vamped and re-launched for the new generation are hard to describe. Sure, remakes are almost inevitably likely to fail, but so what? That doesn't make their possibility any less tantalizing.
TV remakes don't happen often, although when they do they tend to come in waves. The crest of the latest remake wave seems to be ominously hovering right over our heads as recent launches of "
Bionic Woman
," "
American Gladiators
" and the soon-to-be debuting "
Knight Rider
" suggest.
Being faced with these remakes got me thinking - what are some other long-dead shows that are ripe for a revival? Most of the choices below have less of a chance of being reborn than
Britney Spears
has of resuscitating her career. Nevertheless, it is time for the networks to reach deep into the well in order to find the next hit, and I humbly offer this list:
Police Squad!
(1981)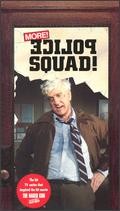 A product of the ZAZ team in its prime, "Police Squad!" was the swiftly canceled precursor to the "
Naked Gun
" films. The series extended the ZAZ brand of slapstick comedy that was popularized in the hit film "
Airplane
" to the small screen, and it did so quite effectively. As fans of the films know,
Leslie Nielsen
was terrific as the
Jack Web
b-inspired Frank Drebin, sergeant in the police squad.
While the original worked very well as a send-up on police procedurals from the 50s, 70s and 80s, the premise would need to be updated slightly. The new "Police Squad!" could satirize more modern procedurals like "
Law & Order
" and "
CSI
" while still keeping in tact the same brand of humor that made the original so hilarious. Having Nielsen back in some capacity would be a must, although not as Drebin. Although he may be a legend he is also about to turn 82.
Another "Naked Gun" movie would be nice, but considering the sorry state of network sitcoms today, a remake of the series would be downright fantastic. It would be a good fit on any network's lineup, but NBC would probably be the most logical place for it. It would work in well with the unconventional sitcoms that compose the network's Thursday night lineup.
21 Jump Street
(1987-91)
It's the show that made
Johnny Depp
a star (at least in the eyes of teenage girls). Obviously, Johnny has since moved on to grander things, but that is no reason to not consider a second go-round of this early Fox hit. For those who don't know, "21 Jump Street" was about a group of young cops who went on undercover missions in high schools and colleges.
The conflicts that they dealt with often reflected on important and somewhat controversial issues of the time including AIDS, hate crimes, homophobia, etc... basically matters that are still relevant today. The post-show, G.I. JOE-like public service announcements would need to go, but otherwise there is a solid foundation for a great series just waiting to be built upon.
"21 Jump Street" would be a welcome addition to any network's lineup. Ok, maybe not any network... just the CW. How about canceling two of the Monday night sitcoms that no one ever watches and plugging in the new "Jump Street" instead?