Five Reasons Why Richard Marx & John Mayer Are Alike

Though
Richard Marx
got his big break in the late 1980's and
John Mayer
got his in early 2000's (nearly 15 years later), if we were able to do a 'quantum leap,' we could easily pop each man into one another's career. John would leap into 1987 (the year of
Richard's self-titled debut album
), and Richard's music career would begin in 2001 when John's hit making album "
Room for Squares
" was released. Surely, both men would still have great success and receive just as many accolades because their musicality is that amazing.
Check out five top reasons why these two gentlemen of music can be viewed as similar:
1)
They both have velvety smooth voices than can make any woman swoon, especially when singing a ballad.
2)
Both are masters of their chosen musical instruments. Richard has great guitar and piano playing abilities. John knows how to get down on the guitar and keyboards.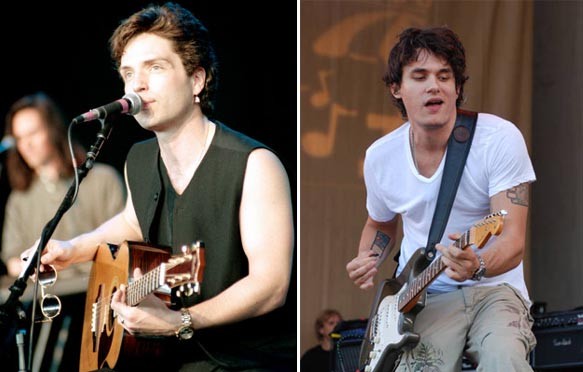 3)
Having big hair may be a sign of good musical capabilities; after all, both men started out their career with wicked big hair, but then wisely chose to tone it down.

4)
Hitting major success with incredibly catchy songs on their first major album is their thing - Richard with "Don't Mean Nothing" and John with "Your Body Is A Wonderland."
5)
Collaboration! Collaboration is the name of the game. Both Richard and John have been lucky enough to collaborate with some of music's heavy weights, opening the door for each to demonstrate their ability to go beyond their own genre of music and exposing themselves to styles ranging from R&B, Country, Hip-Hop and Rap. Richard Marx has collaborated with greats like
Luther Vandross
(winning a 2004 Grammy for song of the year "Dance With My Father"),
David Foster
, Chicago,
Josh Groban
and SHeDAISY. John Mayer has worked his magic with legends such as
B.B. King
,
Eric Clapton
,
Common
,
Kanye West
and
Buddy Guy
just to name a few.
Websites to peep:
http://www.richardmarx.com
http://www.johnmayer.com
What do you think? Are Richard Marx and John Mayer alike? Make a comment!
Story by
Doshka Harvey
Starpulse.com contributing writer