Five Fun Facts About 'Snow White And The Huntsman' Actress Charlize Theron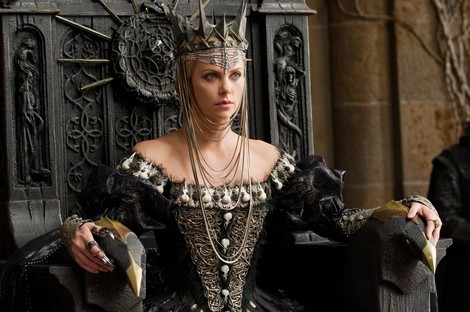 On Friday, June 1st, "Snow White and the Huntsman" starring Kristen Stewart as Snow and Charlize Theron as Queen Ravenna opens across the country.  What better time than a sleepy Thursday to stop and acknowledge the awesomeness that is Charlize Theron with Five Fun Facts about her?
1) Her original plan for fame was to become a dancer but after years of wear and tear on her legs,       particularly her knees, she decided acting was probably the better route for her to travel to show business.
2) (This one isn't exactly "fun") When Theron was 15 years old her mother shot and killed her father when he came after her in a drunken rage. Her mother wasn't charged with murder since the act was seen as self-defense.  Theron often told interviewers that her father was killed in a car crash to avoid talking about the tragedy.
3) Her film debut was an uncredited, non-speaking role in the1995 horror film "Children of the Corn III: Urban Harvest". Giving hope to thousands of extras everywhere when she turned that appearance into an Academy Award win for the 2003 film "Monster".
4) Speaking of the Oscars, Charlize Theron is one of very few actresses to pose nude for Playboy Magazine and then go on to win an the Academy Award (Kim Basinger, winning for "LA. Confidential", is also on this list). So maybe there's still hope for Kim Kardashian?
5) She met her first manager, talent agent John Crosby, while she was at a bank arguing with a teller who wouldn't cash a check for her. While she was yelling and gesturing, Crosby approached her and gave her his card.  The rest is history.