Five Fun Facts About 'Dark Shadows' Actor Johnny Depp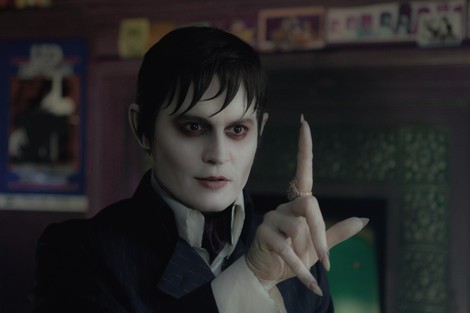 Johnny Depp is an American icon. Love him or hate him, his is one of the most recognizable faces in Hollywood today, even when hidden behind make-up.  Among his roles, he's transformed himself into a cross-dressing movie director, a Frankenstein-like monster with a soul and now a gothic vampire trying to come to grips with living in the 1970s. He's renown for his versatility and whether it's a musical, a romance, a tragedy, horror or action, a Johnny Depp movie is always an adventure.  But for someone who has been making movies since his role in the original "A Nightmare on Elm Street" in 1984, Depp is still something of an enigma. Today we try to remedy that with "Five Fun Facts" about the "Dark Shadows" star.
1)   He won't dance; don't ask him.  Depp has made it clear in many the interview that he doesn't like to dance and he reiterated it on "Ellen" this week when he told her, "I fear it [dancing] more than anything in the world". He went on to tell her that he hasn't "ever" danced in real life but he has for film when "it's choreographed and you're a character".
2)   He has some bucks.  In 2012, Depp made the Guinness Book of World Records for highest paid actor.  Thanks to the fact that, in 2011, Depp made $75 million.
3)   He's a family man. After cultivating a reputation as a Hollywood ladies man, Depp has been with his current partner for fourteen years and they have two children (daughter Lily Rose and son Jack).
4)   He has a lot of tattoos. 13 at last count. Although he's been quotes as saying "My body is a journal and my tattoos are my story", he told his young "Dark Shadows" co-star not to get any tattoos, maybe learning a lesson from his "Winona Forever" tattoo he got when he was with actress Winona Ryder that now has been transformed into a "Wino Forever" tattoo.
5)   He's only been nominated three times for an Academy Award. His financial successes in Hollywood haven't transferred to being honored by the Academy.  He has ten Golden Globe nominations (and one win for "Sweeney Todd") but his only Oscar nominations are for "Sweeney Todd", "Finding Neverland" and the original "Pirates of the Caribbean" film.