Five Fun Facts About Current Comedy Queen And 'Identity Thief' Star Melissa McCarthy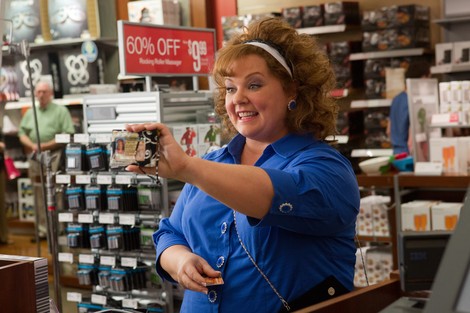 Everyone's favorite funny lady, Melissa McCarthy, stole the show in "Bridesmaids" is heading back to the big screen, this time unleashing her hilarity on co-star Jason Bateman in "Identity Thief." McCarthy uses all the comedic tricks in her repertoire to bring the funny in this unlikely buddy comedy about an unsuspecting victim of identity theft and his quest to bring the culprit to justice. But for those of us who can't get enough of her, here's a healthy helping of Melissa McCarthy trivia.
Did you know…
Melissa is Jenny McCarthy's First Cousin? It seems that the McCarthy clan is swimming in talented, funny ladies. Jenny's and Melissa's dads are brothers, and it seems they taught their girls that there's nothing wrong with throwing in a little nepotism here and there. Melissa's debut on the small screen was a cameo on her cuz's TV show, "Jenny," in 1997.
Laughter Comes from a Dark Place? The bright and shiny Melissa we all know and love wasn't always so carefree and lighthearted. Before she became the queen of comedy, Melissa joined the dark side. The actress once admitted to Anderson Cooper that she was part of the goth scene in high school. Can you imagine those twinkling eyes rimmed in kohl and glossy tresses dyed to an inky black?
Melissa Can Milk a Cow? Well, we don't know this one for sure. But we do know that was raised on a farm in Plainfield, Illinois. While she hasn't regaled us with any wild milking tales, she did tell "Michigan Avenue Magazine" that as a little girl she had a penchant for climbing where she shouldn't. Once she took it too far and got stuck inside a silo. The wee McCarthy had to be rescued by a friendly farmer who climbed up and brought her down.
She Might Have Ended Up on the Runway? Melissa's initial ambition was to be a fashion designer, and that dream is what ultimately got her into comedy. Her quest to be a clothing designer led Melissa to the Big Apple, where she hoped to complete her training at the Fashion Institute of Technology. But before she could even step foot in their admissions office, a friend from home suggested she do an open mic night. After her first taste of the stand-up stage, Melissa was hooked and the rest, as they say, is history.
Melissa was a Gilmore Girl? She's not the long-lost sister of Lorelai or Rory, but McCarthy did play Lorelai's best friend Sookie on the intrepid mother-daughter drama. Melissa became a fan favorite as the wise, but flighty, cook extraordinaire. Sookie was always there to help Lorelai navigate her relationships with her daughter, parents and various suitors.
What is your favorite Melissa McCarthy role?