Five Best & Worst Films Starring Samuel L. Jackson

Samuel L. Jackson
is one of those rare character actors who can take even the weakest of scripts and turn the dialogue into pure cinematic gold. Film after film he continues to deliver some of the most memorable one-liners and poetic obscenities, and he always manages to steal the show.
The challenge with ranking Sam Jackson films is ignoring the obvious victor for best role in
Pulp Fiction
where he plays Jules Winnfield, the Jheri Curl wearing, Bible quoting hit man. Landing the "Fiction" role was no doubt a turning point in Jackson's career and remains to this day his finest film performance. We decided to leave this role out of the list in order to spotlight other stellar performances.
BEST
1)
Jackie Brown
Nobody is able to deliver
Quentin Tarantino's
sly dialogue better than Samuel L. The role of sleazy illegal gun trader Ordell Robbie is mastered in the subtle nuances that Jackson brings to the character. Note the bizarre braided beard (an extra touch Jackson insisted on adding) or the Kangol crowns. Then there is the morality surrounding Robbie. Initially you hate him for his evil doings then you become sympathetic when you realize the other characters in the film are destined to screw him out of his Benjamins. Some say this is Tarantino's worst or most boring film. One could argue it's his most sophisticated.
Memorable Line:
"My ass may be dumb, but I ain't no dumbass."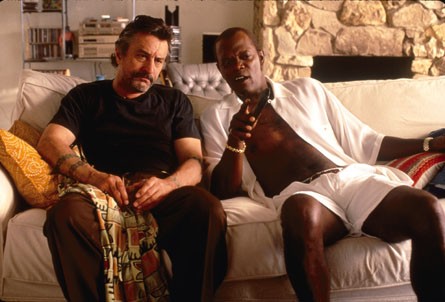 2)
Die Hard With a Vengeance
Thanks to a fairly believable plot, a villainous Jeremy Irons and a standout performance from Jackson, "Die Hard's" third outing delivers its fair share of thrills and witty comic relief. It's hard to imagine anyone else being able to hold his own paired up with
Bruce Willis
' sly John McClane, but Jackson manages to do so with his take on the tough Harlem shop owner Zeus.
Memorable Line:
"My name is Zeus. As in father of Apollo, Mount Olympus, don't f&*$ with me or I'll shove a lightning bolt up your ass, Zeus. You got a problem with that?"
3)
Jungle Fever
Here's one of Jackson's earlier and often overlooked roles. Starring as a jovial and dancing crack fiend, Gator Purify, Jackson takes his own personal struggles with addiction and creates a complicated and tortured soul who gives off rays of empathy with every scene-stealing moment on screen. Gator's final scenes opposite the great Ossie Davis and Rubie Dee remains one of director Spike Lee's most heartbreaking cinematic moments.
Memorable Lines:
"I loves' gettin' high!"
4)
Unbreakable
It's unfortunate how underrated M. Night Shyamalan's follow up to
The Sixth Sense
truly is. Perhaps people were expecting another "I see dead people" type of film when Unbreakable hit the theaters. Jackson takes the role of the physically fragile comic book aficionado Elijah Price and creates an unofficial hero for those who cherish their graphic stories. Then, of course, we're treated to Shyamalan's signature twisted moral to the story, changing our views of Price completely.
Memorable line:
"Now that we know who you are, I know who I am."
5)
The Incredibles
Pixar Animation's sixth outing was proof that Samuel L. Jackson's voice is sometimes all you need. Playing the retired frigid superhero Lucius Best, a.k.a. Frozone, Jackson takes a minor role and adds a touch of comic relief for both adult and children. If any Pixar movie is in need of a sequel it's this one.
Memorable Line:
"You tell me where my super suit is woman! We're talking about the greater good!"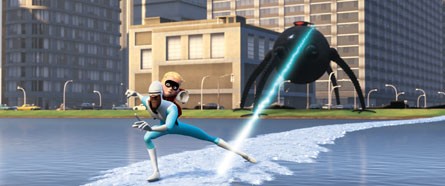 HONORABLE MENTIONS:
Radio DJ Mister Señor Love Daddy-
Do The Right Thing
Guy who gets eaten by genetically engineered shark-
Deep Blue Sea
Guy who gets eaten by genetically engineered dinosaur-
Jurassic Park
Violin expert-
The Red Violin
Stacks Edwards-
Goodfellas
WORST
1)
Snakes on a Plane
The funny thing about this film and Jackson's role is that the pre-release hype and anticipation was actually more fun and intriguing than the film itself. Jackson could have truly been the badass snake fighter the internet Gods labeled him as being, but instead moviegoers got a film that tried to establish itself as a cult classic before it was even released, ultimately making it just another bad action film. Even Jackson couldn't save the laughable script and silly visual effects.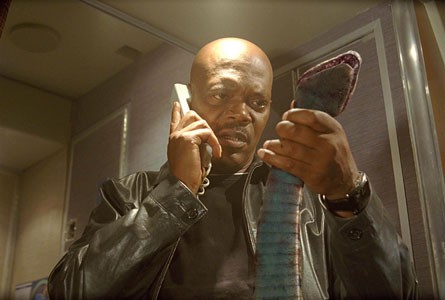 2)
Sphere
Released right after "Jackie Brown," this sci-fi yawner of a film was Samuel L. Jackson's first real leading man venture into big budget territory. An admirable attempt, but ultimately it was daft.
3)
Shaft
If you are going to remake a 70s classic like "Shaft," Samuel L. Jackson seems like the perfect choice. The problem with this film was Jackson didn't even come close to capturing the immaculate badass nature of the original star,
Richard Roundtree
. Instead, the real scene stealers in this film were
Christian Bale
and a wonderful
Jeffrey Wright
as drug kingpin Peoples Hernandez.
4)
xXx
Remember the unnecessary hype before this film was officially released labeling this the future of action? Once again, hype doesn't always deliver.
5)
The Man
One guy walks the walk. The other talks and talks. How many times have we seen an odd couple buddy comedy like this before? It could be Jackson had a child to put through college during the filming of this horribly bad flop.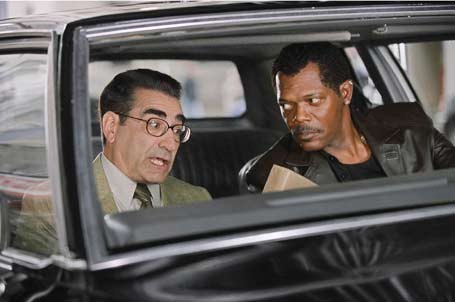 Story By
C. Warner Sills
Starpulse contributing writer