Five Best Performances From The 2014 Grammys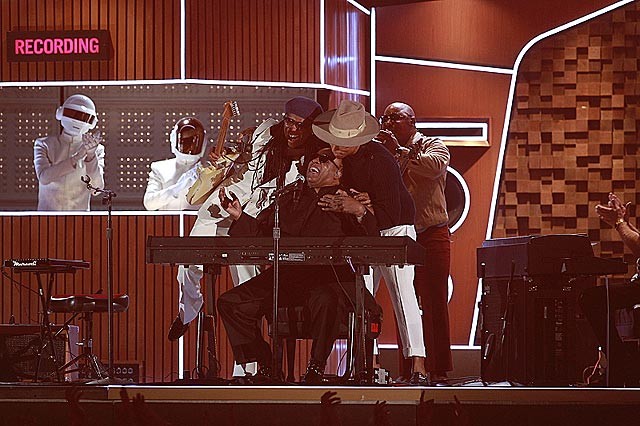 With so many great live performances at Sunday night's 56th Grammy Awards, it's been hard* whittling them all down to the five best. Well, the five best that didn't include any weddings, Broadway adaptations of Little Red Riding Hood meets Harry Potter meets Showgirls, or cut-off performances, that is.

The night was all about mixing the past with the present, and in some cases the past, present and future.

5. Willie Nelson, Kris Kristofferson, Merle Haggard and Blake Shelton: 2/4 of the original Highwaymen with the legendary Haggard and modern Country giant Shelton wasn't the tightest vocally, but this medley of Outlaw Country was a sure highlight...


4. Speaking of 2/4, everyone just assumed that the much-hyped reunion of Paul McCartney and Ringo Starr on stage together would be chock-full of Beatles hits, but alas, Ringo mereley had a solo spot in the show to perform his greatest hit "Photograph" and then played drums (he was the second drummer, at that) on Paul's latest hit "Queenie Eye." We do love the song though..


P!nk was joined by fun. singer Nate Ruess for a rousing rendition of her hit "Just Give Me A Reason." The performance was so perfect, the high-flying antics of the singer weren'te even necessary...


Beyonce and husband Jay-Z opened the show with her latest, "Drunk In Love," and sent pulses racing. Queen B is back and hotter than ever...


Daft Punk, Pharrell Williams, Nile Rodgers and Stevie Wonder: Two legendary funk and R&B musicians paired with one superproducer/singer/rapper and a pair of French EDM giants had every butt in the Staples Center up out of its seat dancing. This could've turned into a 14-minute club mix and still would've captivated...


*It's also been hard finding five videos that haven't been pulled down yet, we apologize for when these ones go...