First Trailer For 'The Hunger Games: Catching Fire' Premieres During MTV Movie Awards (Watch It Here!)
During Sunday night's MTV Movie Awards the first trailer for The Hunger Games: Catching Fire was unleashed, finally giving millions of fans a good look at the highly anticipated sequel.

Jennifer Lawrence returns as heroine Katniss Everdeen, who returns home to District 12 with fellow 74th Hunger Games winner Peeta Mellark (Josh Hutcherson). Shortly after, the two embark on a "Victor's Tour" of the other districts and Katniss senses that a rebellion is brewing that could free the 12 districts of Panem from the rule of the Capitol.

But the sinister President Snow (Donald Sutherland) has other ideas for Katniss and plots to eliminate her by throwing her back into the ring for the 75th games, aka the "Quarter Quell."

Woody Harrelson, Elizabeth Banks, Lenny Kravitz, Stanley Tucci, Jeffrey Wright, Jena Malone, Sam Claflin and Liam Hemsworth also star.

"The Hunger Games: Catching Fire" opens in theaters November 22. Check out the trailer below...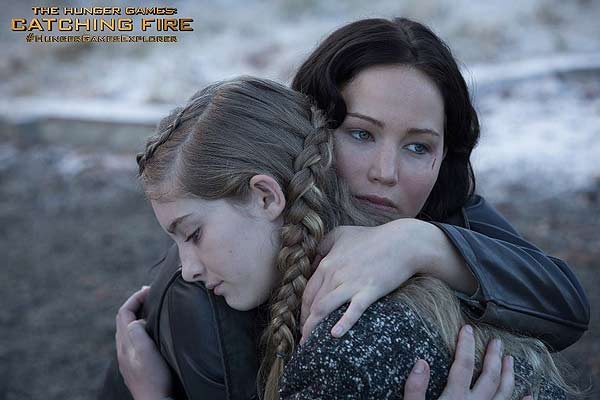 For more on Catching Fire, check out the Hunger Games Explorer.