First Trailer For Next Summer's 'Battleship' Surfaces (Watch It!)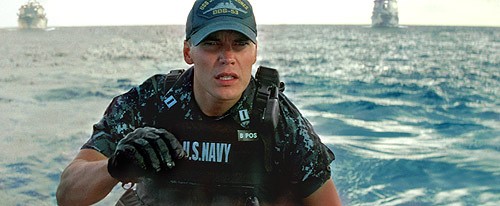 The first trailer for Battleship has officially been released, and it looks... familiar? The film is based on the classic Hasbro game you played back when you were a kid, however that seems to be the only thing the movie and its inspiration have in common.

Call us crazy, but on first impression the film looks like the love-child of Armageddon and Independence Day, with a little bit of The Abyss thrown in for good measure.

Cocky kid works for the father of the girl he likes? Check. Father doesn't want him anywhere near his daughter? Check. Astronomical anomaly occurs, forcing them to put aside their differences for the better of the planet? Check. Aliens invade? Check.
James Cameron (director of the aforementioned The Abyss) called the idea for the film "ridiculous."
We have a story crisis," he told Germany's Spiegel Online back in January, "Now they want to make Battleship the game into a film! This is pure desperation, because now the 'Sequel Business' governs Hollywood, or how we call it: the franchise." 

Check out the trailer...
How do you think it looks? Leave us your thougts below in the comments section!
Peter Berg (Hancock) produces and directs Battleship, an epic action-adventure that unfolds across the seas, in the skies and over land as our planet fights for survival against a superior force. Based on Hasbro's classic naval combat game, Battleship stars Taylor Kitsch as Lt. Alex Hopper, a Naval officer assigned to the USS John Paul Jones; Brooklyn Decker as Sam Shane, a physical therapist and Hopper's fiancée; Alexander Skarsgard as Hopper's older brother, Stone, Commanding Officer of the USS Sampson; Rihanna as Petty Officer Raikes, Hopper's crewmate and a weapons specialist on the USS John Paul Jones; and international superstar Liam Neeson as Hopper and Stone's superior (and Sam's father), Admiral Shane.
Battleship hits theaters May 18, 2012!