First Shot From Beyonce's H&M Campaign Revealed - And It's Hot!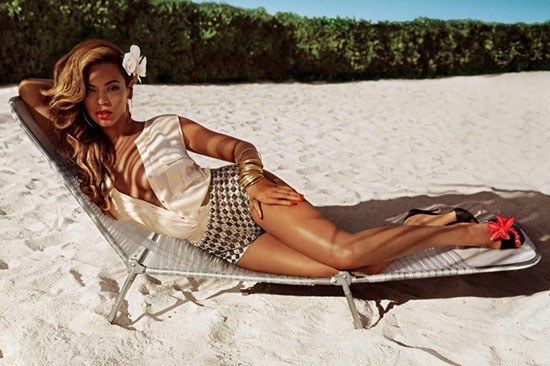 Beyonce relaxes in a lounge chair in the Bahamas in a new image for fashion retailer H&M. The sexy pop star is wearing a low-cut white blouse; printed short, shorts; an armful of gold bangles and black high heels. Her hair is pinned to the side with a flower barrette.
She said of the campaign: "I've always liked H&M's focus on fun and affordable fashion. I really loved the concept we collaborated on to explore the different emotions of women represented by the four elements -- fire, water, earth and wind. It was a beautiful shoot on a tropical island. It felt more like making a video than a commercial."
The campaign has been dubbed "Beyonce as Mrs. Carter in H&M," a reference to her husband Jay-Z's last name. Singer Lana Del Rey and soccer star David Beckham have also appeared in advertising for the Swedish retailer.
Beyonce made headlines earlier this week when she released her new single, "Bow Down/I Been On," which features lyrics a bit more edgier than usual. During the first half of the track Beyonce sings that she deserves respect and isn't just Jay Z's wife and a stay-at-home mom.

She sings, "I took some time to live my life, but don't think I'm just his little wife. Don't get it twisted, get it twisted, this my sh*t, Bow down b*tches."
Not everyone was thrilled with the song, including fellow singer Keyshia Cole. She tweeted: "First 'Women need to Stick together' now bitches better Bow. Smh. But it's all G! Chicks stay shooting the sh-t. But when I speak my mind its a prob. #Well #StayMad."
The post refers to Beyonce's previous song which generally encouraged sisterhood between women.