First Pics Of Rihanna In Hawaii On The Set Of 'Battleship'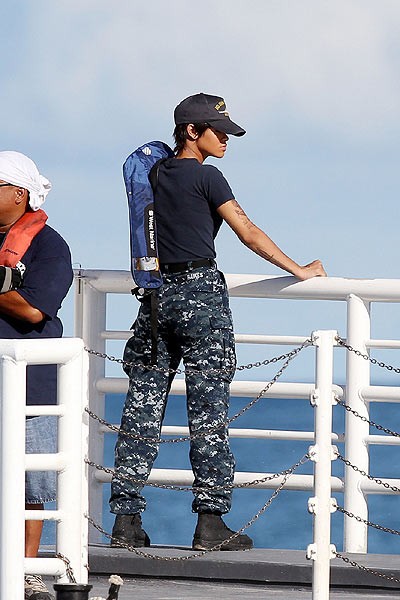 Can you believe they're making a "Battleship" movie? Yes, based on the popular Milton-Bradley game of the same name.
And can you believe that Rihanna is starring? Well, if not, here's your proof: the "Umbrella" singer was seen borarding a boat and heading off to film the movie about a mile-and-a-half out to see off the shore of Hawaii. "Battleship" centers on a fleet of naval ships fighting aliens who invade Earth to take its natural resources for their own benefit. Hmm, haven't heard of anything like that before.

But regardless whether it sounds good, looks good, and in the most unlikely of cases is, Rihanna is excited about being a part of the production.

She recently told Scotland's Daily Record, "Movies are definitely something I want to get into... Action would be good... Things that are cool, like comic book movies."

Supermodel Brooklyn Decker, "True Blood's" Alexander Skarsgard, Taylor Kitsch and Tom Arnold round out the cast.