First Look: Watch A 'War Horse' Bonus Clip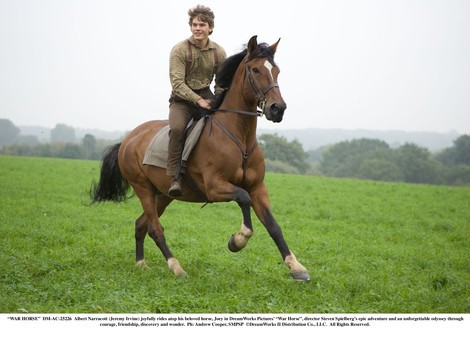 Director Steven Spielberg's epic World War I drama "War Horse" details the remarkable bond between a man named Albert (Jeremy Irvine) and his loyal horse, Joey.

Adapted from the novel by Michael Morpurgo, "War Horse" follows the growing friendship between man and beast as Albert trains Joey, and then follows Joey on an incredible journey across the English countryside after the pair are forcibly separated.

Along the way, Joey touches the lives of everyone he comes into contact with, including British and German soldiers, as well as a kindly French farmer and his impressionable granddaughter. Later, in no man's land, Joey's extraordinary saga winds to a poignant and deeply affecting climax.

The film also stars Peter Mullan and Emily Watson. "War Horse" received Academy Award nominations for Best Picture, Best Cinematography, Best Original Score, Best Art Direction, Best Sound Editing and Best Sound Mixing. Watch it on Blu-Ray, DVD, digital and on-demand, April 3!