First Look: Sofia Vergara's Breasts Are Lethal Weapons In 'Machete Kills'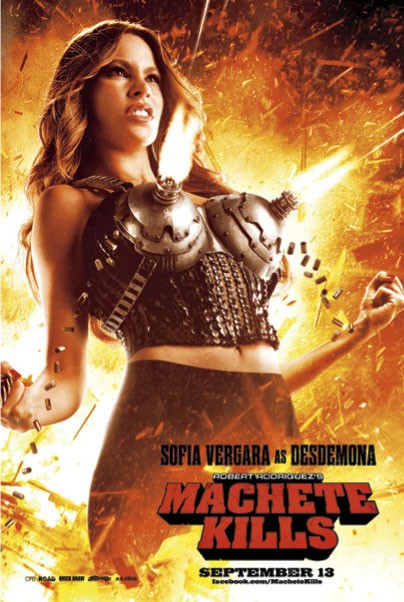 Apparently Danny Trejo's isn't the only lethal weapon in Robert Rodriquez's highly anticipated sequel, "Machete Kills."
The latest promo for the film features Lady Desdemona (Sofia Vergara) exercising her Second Amendment rights with a gun-blazing bra!
This isn't the first time Rodriguez has turned a sexy woman into a killing machine -- Rose McGowan sported a machine gun for a leg after zombies chewed off one of hers in the director's Grindhouse film Planet Terror in 2007.
The sequel to 2010's Machete brings us the return of Danny Trejo as the ultimate badass.
Recruited by the government for a mission which would be impossible for almost anyone, Machete must take down a madman revolutionary and an eccentric billionaire arms dealer who has hatched a plan to spread war and anarchy across the planet.
The movie's all-star cast also includes Amber Heard, Antonio Banderas, Vanessa Hudgens, Alexa Vega, Cuba Gooding Jr. and Mel Gibson. Michelle Rodriguez and Jessica Alba, both of whom starred in the first "Machete," return for the sequel..
Another poster for the film (below) features Lady Gaga, who makes her acting debut as La Chameleon. The shot was released last summer.
'Machete Kills' hits theaters September 13th.