First Look: Rooney Mara As Lisbeth Salander In 'The Girl With The Dragon Tattoo'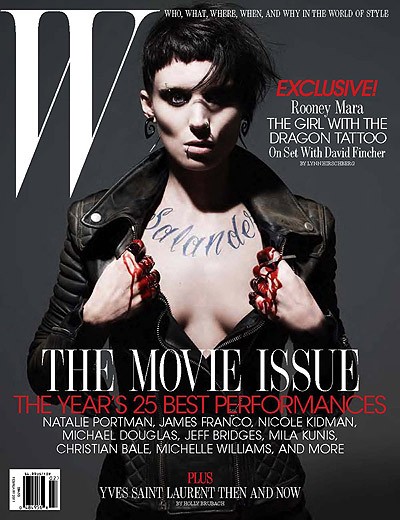 In W Magazine's inaugural February "Movie Issue", Editor at Large Lynn Hirschberg goes on set in Stockholm with Rooney Mara and David Fincher, star and director of this year's highly anticipated The Girl With the Dragon Tattoo.

The actress plays Lisbeth Salander, the title character in late author Stieg Larsson's book of the same name, the first of three in his Millennium Trilogy. The novels have sold more than 50 million copies worldwide.

Salander is described in the book as an androgynous computer hacker with a large dragon tattoo and multiple piercings. In fact, it's been reported that Mara even went as far as to have her nipples pierced to help her get into character as the bisexual heroine.

The first images of Mara getting into character hit the net back in August thanks to posts on the actress' website, RooneyMara.net. Noomi Rapace played the part in the original Swedish film.

Hirschberg also selects the standout actors in the year's most impressive films. The "Best Performances" portfolio features incredibly striking photos of twenty-five actors including: Natalie Portman, James Franco, Nicole Kidman, Michael Douglas, Michelle Williams, Jeff Bridges, Mila Kunis, Christian Bale and more.
Best Performances
Natalie Portman In "Black Swan"
"The movie that I watched the most when I was growing up was Dirty Dancing. I always loved Penny, probably because I was really like Baby. I was a Jewish girl from a Jewish family, so of course I liked the tall, skinny blond girl."

Jesse Eisenberg In "The Social Network"
"I started acting to be included in a group, because I felt excluded in school. The final product was out of my control, so it didn't really matter to me. I just liked being in a group of people that didn't kick my shin."

Julianne Moore In "The Kids Are All Right"

"Acting forces you to look at yourself all the time. You have to move through these ages: You're a teenager, a daughter, then a mother. You can never get stuck in your own bubble-acting doesn't allow that."

Javier Bardem In "Biutiful"
"My first part was in The Ages of Lulu. I played a sadomasochist who killed people and created fun orgies. I'm a Method actor: I went to every orgy in the world."

Michael Douglas In "Solitary Man" And "Wall Street: Money Never Sleeps"
"I don't quite get why Gordon Gekko, who is a clearly defined villain, is such a heroic ?gure to M.B.A. students. But every time I'm out, a drunken Wall Street guy comes up to me and says, 'You're the man!'"

Nicole Kidman In "Rabbit Hole"
"I don't mind being naked. After having a baby, I'm not so sure now, but I enjoy not letting my issues get in the way of nudity."

Mila Kunis In "Black Swan"
"Before Black Swan, I had never danced in my life, and I will never dance again. I lost 20 pounds in three months, danced five hours a day, for seven days a week. I tore a ligament. I dislocated my shoulder. I have two scars on my back. It was worth every minute, but I will never put on toe shoes again."

Check out more pics of Rooney Mara as Lisbeth Salander at W magazine!

Also check out the Best Performances Portfolio, Part 2 here.
Here's Rooney before: