First Look: New Promo Image Of 'Guardians Of The Galaxy' Cast Released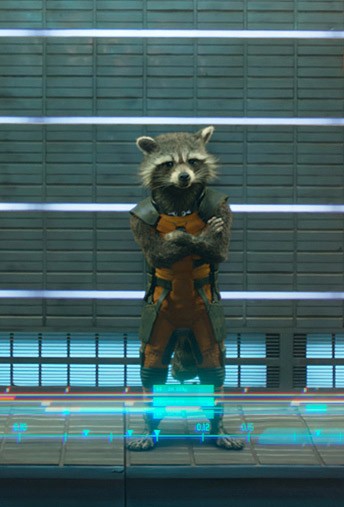 The first promo image featuring the main cast of this summer's highly-anticipated Marvel superhero film, Guardians of the Galaxy, has been released by the movie studio, giving fans a first look at the film's stars in character.

The new image features Zoe Saldana as the green-skinned alien Gamora, who has superhuman strength and accelerated healing powers; Chris Pratt as Peter Quill, aka Star-Lord, a combat expert who gains strength, the ability to fly and to travel through space thanks to an augmented supersuit; Bradley Cooper as the pint-sized, yet deadly, Rocket Raccoon, a starship pilot with strong military and leadership traits; Dave Bautista as Drax The Destroyer, a superhuman able to project energy blasts and whose psychic powers allow him to sniff out the whereabouts of bad guy Thanos; and Vin Diesel as Groot, aka Monarch of Planet X, a tree-like creature who can absorb wood, rebuild himself, control trees and even regenerate from just a small branch.

The film's official synopsis was also released:

From Marvel, the studio that brought you the global blockbuster franchises of Iron Man, Thor, Captain America and The Avengers, comes a new team – the Guardians of the Galaxy. An action-packed epic space adventure, Marvel's "Guardians of the Galaxy" expands the Marvel Cinematic Universe into the cosmos, where brash adventurer Peter Quill finds himself the object of an unrelenting bounty hunt after stealing a mysterious orb coveted by Ronan, a powerful villain with ambitions that threaten the universe. To evade the ever-persistent Ronan, Quill is forced into an uneasy truce with a quartet of disparate misfits – Rocket, a gun-toting raccoon, Groot, a tree-like humanoid, the deadly and enigmatic Gamora and the revenge-driven Drax the Destroyer. But when Peter discovers the true power of the orb and the menace it poses to the cosmos, he must do his best to rally his ragtag rivals for a last, desperate stand – with the galaxy's fate in the balance. Marvel's "Guardians of the Galaxy" is presented by Marvel Studios. The film releases August 1, 2014, and is distributed by Walt Disney Studios Motion Pictures.

A concept art photo (below) of the five heroes was recently released by Disney/Marvel, and last week Diesel shared an image of himself with the bust of his character on Facebook. 

"Guardians Of The Galaxy" also stars Lee Pace, Karen Gillan, John C. Reilly, Glenn Close, Michael Rooker, Djimon Hounsou and Benicio Del Toro.


Click the image below for a higher-res version: