First Look: Kristen Stewart As Snow White In 'Snow White And The Huntsman' (Pics!)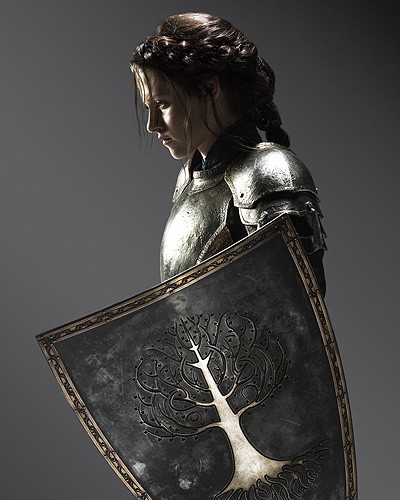 Kristen Stewart will star as the sword-wielding title character in Snow White and the Huntsman, one of two Snow White films coming in 2012.

The film will put a new spin on the classic tale, where the title character teams up with a huntsman (Chris Hemsworth) originally ordered to kill her by the Evil Queen (Charlize Theron of a fantasy world.

On Saturday, July 23rd, stars Stewart, Hemsworth Theron and Sam Claflin (Prince Charming) attended the Snow White and the Huntsman panel at Comic Con in San Diego to promote the upcoming film.

During the panel Charlize Theron shed a little light on her Evil Queen character.

"It won't be the Evil Queen who shows up evil. There's going to be a lot of circumstances that bleed into her action. I don't want to just be evil.

"[T]rust me, she's dark. She's a serial killer. I'm pretty much preparing to play a serial killer. I'm trying to ground it and make it something real."

When asked about how it will differ from the "other" Snow White film due next year, starring Lily Collins, Julia Roberts and Sean Bean, Producer Joe Roth said, "Our movie is on the scale of The Lord of the Rings, in terms of size, scope and appetite. From the pictures, the other looks like a softer version."

As for the seven dwarfs, they'll be played by Ian McShane, Bob Hoskins, Toby Jones, Eddie Marsan, Stephen Graham, Ray Winstone and Nick Frost.

Production on the film is scheduled to begin next month.