First Look: Farrelly Brothers 'Three Stooges' Trailer (Video)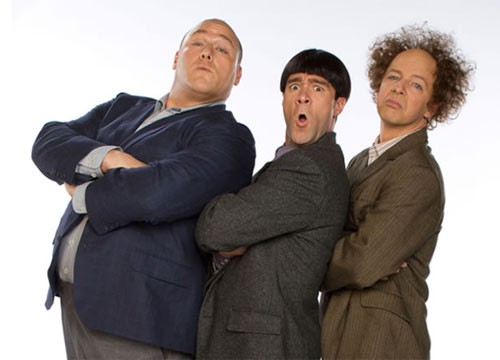 Ok knuckleheads… spread out and get ready for the first trailer of the Farrelly brothers modern day take of "The Three Stooges." After years of talk and speculation we are finally getting our first look of their reboot of the classic comedy trio. The new stooges are played by Chris Diamantopoulos (Moe), Sean Hayes (Larry), and Will Sasso (Curly).
The Farrelly brothers seem excited and confident they've succeeded in the comedy reboot. "They are Moe, Larry, Curly as you remember them," said Peter Farrelly. He informed MTV, "It's not a biopic. It's the episodes just as you saw but we rewrote, we have all new episodes. We have three episodes. Technically, each episode picks up where the last one left off. Each one begins with its own theme, so it's about an hour and 25 minutes. Three episodes, fun, old-fashioned, but it takes place present-day, and they look, dress and sound like the Three Stooges."
The trailer has lots of eye poking fun, chomping lobsters and Moe has a special present for MTV reality star Snooki. Check out the trailer below and look for it in theaters April 13, 2012.