First Look At 'Strike Back' Prequel 'Origins,' Starring Andrew Lincoln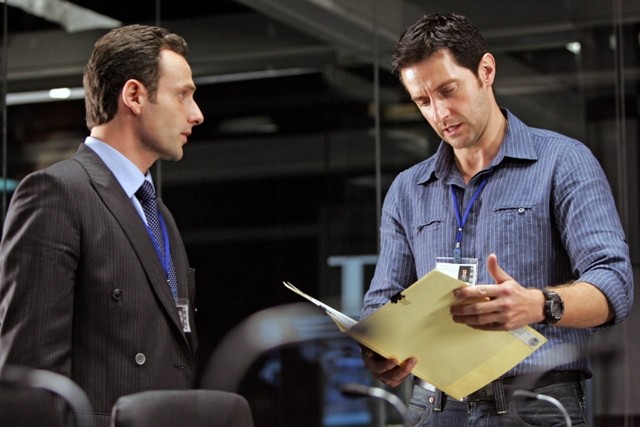 Although Season 3 of Strike Back is over, Cinemax is giving us a look into the origins of the franchise, with the US premiere of the original UK series that started it all. Andrew Lincoln (The Walking Dead) and Richard Armitage (Spooks) star in Strike Back: Origins, a six-episode set that serves as a prequel to the adventures of Damian Scott, Michael Stonebridge and company.
Originally aired in 2010, this first installment of Strike Back focuses on John Porter (Armitage), a former elite military officer drafted back into service by one-time colleague Hugh Collinson (Lincoln) to work for him at Section 20. Collinson hopes Porter can help 20 rescue a kidnapped war correspondent (played by Orla Brady, Mistresses). Working alongside him are Danni Prendiville (Shelley Conn, Terra Nova, also from Mistresses) - whose relationship with the married Porter turns personal - and Layla Thompson (Jodhi May, Defiance). Colin Salmon (Keen Eddie) also stars.
Check out a clip from the first episode of Origins below.
Strike Back fans will already be familiar with the character of Porter, whose kidnapping kicked off the first Cinemax season of Strike Back. Scott (Sullivan Stapleton) was said to have worked previously with Porter, and it was because only Porter and Scott could identify the terrorist responsible for the kidnapping that Stonebridge (Philip Winchester) was sent to find him. The rest, as we know, is adrenaline-fueled, often jaw-dropping history.
This is a great opportunity for audiences to check out the episodes that launched one of TV's best action-adventure series, and catch a few familiar faces in different roles. If you want to know more about Origins, you can check out this behind-the-scenes glimpse.
Strike Back: Origins begins tonight at 10 PM ET/PT on Cinemax.
(c)2013 Brittany Frederick. Appears at Starpulse with permission. All rights reserved. No reproduction permitted. Visit my official website and follow me on Twitter at @tvbrittanyf.