First Live Performance Collection From The Bangles Available On DVD August 14

Los Angeles, CA - One of the most successful female groups of all time,
The Bangles
make a triumphant return to their hometown of Los Angeles with their first-ever concert DVD, available August 14 on Shout! Factory.
Return To Bangleonia
was recorded in September 2000 at the House of Blues on the Sunset Strip in Los Angeles with the original lineup of
Susanna Hoffs
(Vocals/Guitar), Debbi Peterson (Vocals/Drums), Vicki Peterson (Vocals/Lead Guitar), and Michael Steele (Vocals/Bass). The DVD includes 18 songs as well as extras and a commentary track by the band.
The queens of power pop pull out all of their hits on
Return To Bangleonia
, from number one singles "Walk Like An Egyptian" and "Eternal Flame" to early fan favorites like "Hero Takes A Fall." "Get The Girl," from the film
Austin Powers: The Spy Who Shagged Me
is also included. Extras include acoustic performances of "Ride The Ride" and "Manic Monday," which was written by
Prince
(writing under the pseudonym Christopher at the time), as well as a candid interview with the band about their storied history and a photo gallery with rare and never-before-seen photos.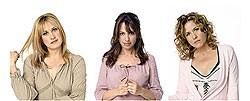 The Bangles first hit the radar as a fixture on the LA music scene in 1981. They went on to trade their garage band roots for a distinctive pop sound featuring gorgeous harmonies that would make them one of the most successful bands of the 1980s.
The Bangles released their debut album
All Over The Place
on Columbia in 1984. The band's sophomore album, the multi-platinum
A Different Light
(1986), contained the hit singles "Manic Monday", "Walk Like an Egyptian" and "Walking Down Your Street." 1988's
Everything
delivered the hits "In Your Room" and "Be With You," and the international #1 single "Eternal Flame." The band broke up in 1989 and each of the band members went on to participate in various other projects, which only contributed to their creative growth. In 2003 they reunited and released
Doll Revolution
. Shout! Factory released the Susanna Hoffs and
Matthew Sweet
'60s salute
Under the Covers Vol. 1
in 2006. More information on the Bangles available at
www.thebangles.com
.
Watch two Bangles classics from the DVD:
"Manic Monday"
"If She Knew What She Wants"
The Bangles 2007 Tour Dates
July 21 Las Vegas, NV - Mandalay Bay
July 26 Hollywood, CA - House of Blues
July 27 Costa Mesa, CA - Pacific Amphitheater (with
Heart
)
July 28 San Diego, CA - House of Blues
August 2 Paso Robles, CA - Mid State Fair
August 9 Ventura, CA - Ventura County Fair
August 19 Cabazon, CA - Morongo Casino and Resort
August 23 Minneapolis, MN - First Avenue
August 24 Madison, WI - Orpheum Theater
August 25 Green Bay, WI - Meyer Theater
August 27 Chicago, IL - House of Blues
August 29 Rochester Hills - Meadow Brook Music Festival
August 30 Cleveland, OH - House of Blues
September 1 Woodstock, CT - Woodstock Fair
September 2 Ledyard, CT - Foxwoods Resort and Casino
DVD Track Listing
1. Hazy Shade of Winter (
Paul Simon
)
2. Live (Emitt Rhodes)
3. If She Knew What She Wants (Jules Shear)
4. Between The Two (Michael Steele/David Bergen White)
5. The Rain Song (Susan Cowsill/Vicki Peterson)
6. Manic Monday (Christopher)
7. Here Right Now (Debbi Peterson/Peter Rafelson)
8. September Gurls (Alex Chilton)
9. Going Down To Liverpool (Kimberley Rew)
10. I Will Take Care Of You (Susanna Hoffs/Dillon O'Brian)
11. Get The Girl (Susanna Hoffs/Vicki Peterson/Debbi Peterson)
12. In Your Room (Susanna Hoffs/Tom Kelly/Billy Steinberg)
13. Stealing Rosemary (Susanna Hoffs/Vicki Peterson/Debbi Peterson)
14. Angels Don't Fall In Love (Susanna Hoffs/Vicki Peterson)
15. Hero Takes A Fall (Susanna Hoffs/Vicki Peterson)
16. Walk Like An Egyptian (Liam Sternberg)
17. Pushin' Too Hard (Sky Saxon)
18. Eternal Flame (Susanna Hoffs/Tom Kelly/Billy Steinberg)
EXTRAS
-Bonus Acoustic Performances of 'Manic Monday' and 'Ride The Ride'
-The Story Of
Bangleonia
- Interview with the band
-Band Commentary
-Photo Gallery