First Listen: Corinne Bailey Rae's 'The Sea'

It is just after 7pm in Hollywood when with little fanfare, songstress
Corinne Bailey Rae
slips onto the stage of the Hotel Café wearing a deep blue jumpsuit, corkscrew curls and a self-effacing smile. Backed by a five-piece band, the 30 year-old English waif wastes no time launching into the first of several new tunes off her upcoming album, THE SEA.
Despite the critical and commercial success of her 2006 debut self-titled album, Rae appears taken aback at times by the appreciation of the assemblage, smiling shyly at the ovation after each song and thanking everyone for their "support." Boy, has she ever needed it.
It's one of Rae's first performances since March 2008, when her Saxophonist husband Jason Rae was found dead of a suspected drug overdose. Though she never mentions the tragedy explicitly, several of Rae's new tracks seem inspired by the musician; notably 'I'd Do It All Again' a soul-wrenching passion piece about love and loss.
"There is something miraculous that pushes you along, makes you keep going, makes you carry on," reflects Rae about her new musical offering. "It's really about the mystery of that. In fact, the whole album is about that in a way; it's about loss but it's also about hope, about keeping going and trying to find that beauty."
There's plenty of beauty to be found: While there is no immediate pop hit apparent (her past smash 'Put Your Records On' boasted a catchy, killer hook), there is a nice mix of upbeat tunes (showcasing heavier guitar this time around) with beautifully orchestrated ballads and torch songs. It's clear that Rae has matured as an artist and whether it's due to her painful loss or simply to time, her voice and writing has taken on a new raw grit.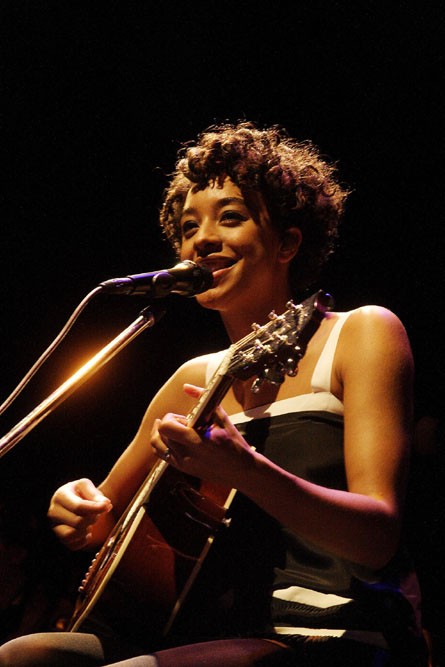 Image © Capitol Music Group
No worries for fans of her first album: Rae still displays her trademark breezy effervescence on tracks like 'Paris Nights, New York Mornings' and talent for artful, neo-soul style balladry on 'I Would Like to Call it Beauty' and 'Are You Here'. Emotional and deeply personal, the often-bittersweet song selections somehow manage to be uplifting as well -- a true triumph.
Though the venue has given her a single hour to play - Rae jokes that a man with a hook is waiting to drag her offstage - the songstress insists on playing one more for her grateful fans. She launches into an extended version of her 2006 tune, "Till it Happens to You" then lingers, beaming, in a quiet commune with supporters.
At one point in the night, Rae sang of feeling "powerless," but it's a brave artist indeed who gives fans a mirror into a soul-in-repair. To quote a lyric off Rae's new album: "It Says Everything."
Corinne Bailey Rae's Album THE SEA will be released by EMI on January 26th, 2010.
Story by
Shannon Peace
Starpulse contributing writer