First Lady Michelle Obama Reveals Holiday Traditions, Including The Time She Hula Hooped For A Gift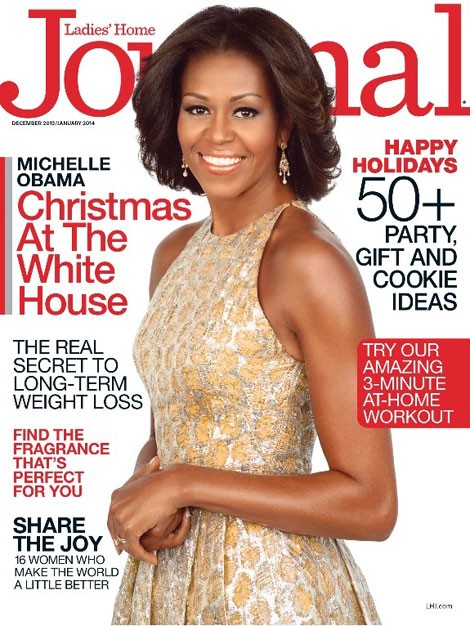 First Lady Michelle Obama recently opened up to Ladies Home Journal about her family's holiday traditions, which include a talent show, a special dish, and "A Charlie Brown Christmas."
When she was younger, her family had a unique way of celebrating the holidays rather than exchanging gifts.
"Our extended family was so large, people couldn't really afford to buy gifts for everyone. So a couple of my aunts would go out and purchase small gifts. They would put them in a basket and in order to get a gift you had to perform," she explained.
"You could tell a joke, read a poem, do a backflip – anything counted. It's a tradition that we've carried on today. I've hula-hooped, done a dog trick with Bo and read poems. The kids will sing or put on plays. The President and some of the other dads will get together and do a song."
Her family also has a special recipe that's been handed down throughout the generations.
"One of my favorite holiday dishes is a simple and delicious white-bread crumb stuffing with oysters and spicy sausage," she said. "My mom got the recipe from my grandmother – my father's mother. I've made it before, but it always tastes better when Mom makes it."
Now that she's in the White House, the First Lady puts their family tree in the Yellow Oval room. " We'll have hot chocolate, light a fire, no matter what the weather is, get out a basket of decorations and then I'll put on the first holiday music of the season," she revealed. "I have a phenomenal playlist that includes, of course, "A Charlie Brown Christmas," as well as James Taylor, Mariah Carey, Boys II Men and Nat King Cole."
When her daughters' friends visit, they make cookies together. "If they are bored and they've run out of things to talk about or do, I usually get a request: "Can we go down to the kitchen and make cookies?" And of course, the answer is always yes," Obama said.
Read more in the in the Dec/Jan 2014 of Ladies Home Journal.