First Indian-American, Nina Davuluri, Crowned Miss America - See Photos!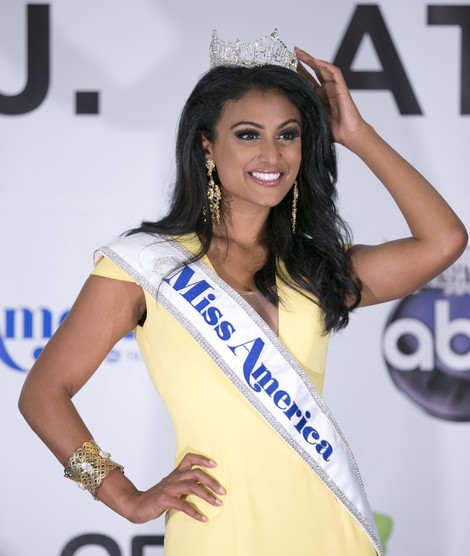 The new Miss America made history on Sunday night by becoming the pageant's first Indian-American winner.
Nina Davuluri, 24, is from Syracuse, New York.  She wants to be a doctor (like her dad) and plans on using the $50,000 pageant prize to help her with medical school expenses. According to a story by Syracuse.com, she once battled bulimia.
Her platform was "Celebrating Diversity through Cultural Competency." Her talent - a classical Indian dance fused with Bollywood moves.
When asked what she thought about journalist Julie Chen's admission that she had plastic surgery to look less Asian, Davuluri responded: "I don't agree with plastic surgery, however I can understand that from a standpoint. More importantly I've always viewed Miss America as the girl next door. And Miss America is always evolving... I wouldn't want to change someone's looks. Be confident in who you are."
After she was crowned, several uninformed viewers made racist tweets about Davuluri, calling her an Arab, Indonesian, and a terrorist.  She said in response to the criticism, "I have to rise above that."
Miss American 2014 is the second consecutive Miss New York to win the crown. Sunday night's first runner up was Miss California Cyrstal Lee, followed by Miss Oklahoma Kesley Griswold, Miss Florida Myrrhanda Jones, and Miss Minnesota Rebecca Yeh.
Check out more photos of Nina...