First Image Of Helena Bonham Carter As Elizabeth Taylor - Do They Look Alike?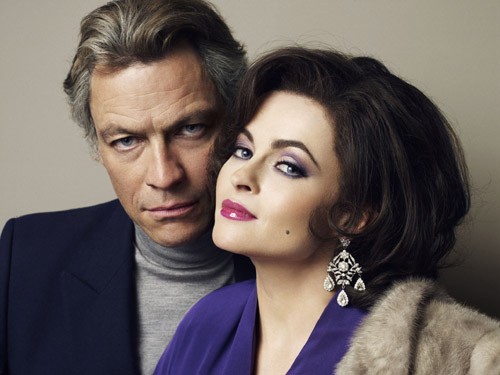 Check out Helena Bonham Carter and Dominic West above, in character and on-again-off-again Hollywood couple Elizabeth Taylor and Richard Burton.
Carter and West play the two in an upcoming 90-minute drama, "Burton and Taylor," airing this fall on BBC. It will follow the star's relationship as they appear in the 1983 play "Private Lives." The two would be playing essentially themselves in a story about two divorcees who discover they had rooms next to one another on their honeymoon with their new partners (Burton and Taylor had already divorced twice before starring in the play). The show was to be a one-off production and recorded for sale, but it was such a commercial success that the two toured.  
The touring production became ripe material for tabloid, which described their lavish dressing rooms (even Architectural Digest ran a story on Taylor's giant fish tank). Shows were regularly delayed as fans would wait outside the theater to see Elizabeth arrive, rather than get in their seats. Taylor also insisted that her parrot companion Alvin appear in the show, which he did except for a tour in Chicago - because he had a cold.
So, what do you think of West and Carter? Do you think they look like Burton and Taylor?