First Ever Velvet Underground DVD Due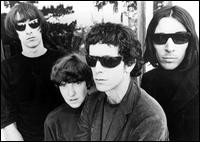 The Velvet Underground
finally make it to DVD on January 24, 2006 with the Rhino release of Velvet Redux: Live MCMXCIII. This first-ever DVD from the pioneering alternative rock group features sizzling performances from the quartet's European reunion tour.
Filmed live at the Paris Olympia on June 15, 16, and 17, 1993, Live MCMXCIII captures the original line-up --
Lou Reed
,
John Cale
,
Sterling Morrison
, and
Moe Tucker
-- on extended versions of VU classics like "Femme Fatale," "Pale Blue Eyes," and "Heroin," and on more obscure fare like "Hey Mr. Rain" and "I'm Sticking With You" (both of which remained unreleased for years after the band's breakup), and there's even a new song, "Coyote." The DVD also features digitally re-mastered audio.
"The unanimous opinion was that we were 10 times better live than we were on records," claimed Sterling Morrison in an interview before his death, and the 15 songs performed on the new DVD bear that out. The band's all-too-brief reunion never made it to America, but Live MCMXCIII stands as the perfect tribute to both Morrison and the legacy of The Velvet Underground.
Track Listing:
Venus in Furs
White Light/White Heat
Beginning To See The Light
Some Kinda Love
Femme Fatale
Hey Mr. Rain
I'm Sticking With You
I Heard Her Call My Name
I'll Be Your Mirror
Rock 'n' Roll
Sweet Jane
I'm Waiting For The Man
Heroin
Pale Blue Eyes
Coyote
Related Links:
The Velvet Underground history, discography, reviews, & more...
Velvet Underground ringtones