Fired Yes Singer Jon Anderson Unimpressed With Band's 'New' Sound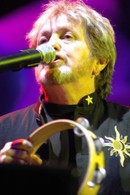 Fired Yes frontman Jon Anderson is far from impressed with his former band's new music, insisting he was expecting more from the guys who replaced him with tribute band singer Benoit David.

Anderson founded the progressive rock supergroup with bassist Chris Squire in the late 1960s and although he's still sore that he's no longer a part of the group, he was looking forward to hearing the music his old bandmates were making without him.

Speaking to Rolling Stone, the "Owner of a Lonely Heart" singer, says, "The new singer is singing good, but it sounded a bit dated to me. Also, the production wasn't as good as I expected. They've got a great producer with Trevor Horn, so what the hell are you doing?"

Horn was the producer at the controls for Yes' classic "90125" album.

Anderson insists he's no longer bitter about the way he heard he'd been ousted from Yes as he was recovering from a long illness: "They didn't tell me anything. They were just off and running. But what can you do? I was p**sed off in the beginning, but then you say, 'Oh well, the boys want to go on tour and be rock and rollers. Let them to do it.'"

The new Yes, without Anderson, have just released their first single in 10 years, We Can Fly.