Finish Line: 'Top Gear' Returns For More Season 4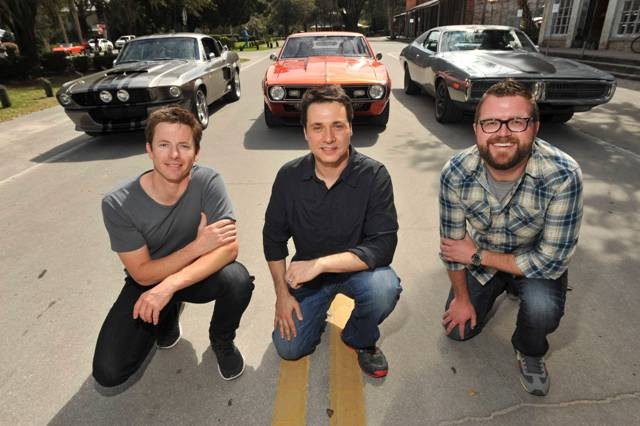 You can stop crying into your beer. After a six-month hiatus, History's Top Gear has mercifully returned with new episodes to make us laugh, smile and cry in the name of love of the automobile. From muscle cars to rally cars, the Grand Canyon to Germany, it's going to be one crazy summer.
To prepare for this momentous occasion, BFTV scoured the country (okay, the state of California) to catch up with hosts Adam Ferrara, Tanner Foust and Rutledge Wood, and talk a little Top Gear.
Are they as upended by the split seasons as we are? "It can be a little confusing," Rutledge laughed. "We're very lucky to have the loyal viewers that we do. The three of us try to put a lot of effort in to make sure people know when it's coming back and where. For me, [June 3rd]'s a great day, because  that is my daughter Elsie's birthday." So if you're reading this, jump on Twitter and wish her a happy birthday, would you?
You might also want to say a few prayers for the guys, because as usual, they're doing crazy things with cars for our entertainment and their own amusement. "This season has been particularly a lot of fun, because of the cars we go to drive," reflected Adam. "I got to drive a 700 horsepower '68 Camaro. That's a drag car. That was just incredible.
"I've never been so nervous as yesterday," he added. "I drove Fred Astaire's 1927 Rolls-Royce Phantom I that they let out of the Petersen [Automotive] Museum for me. That's the most terrified I've ever been. It's a piece of history."
"I know we've done some cool stuff," Tanner said. "We've been to the far corners of the continental United States - northeastern Maine and northwestern Washington state. But we're doing a lot of shooting in Europe and getting on the Autobahn and the Nurburgring, doing some really cool stuff with cars that are nice cars that you normally would never see here."
Europe being the home of the original UK edition of Top Gear, one of the most-watched programs in the world. We've seen UK hosts Jeremy Clarkson, Richard Hammond and James May visit the US numerous times, but this will be the first time that our show is coming to their home turf. What were the expectations going into that trip?
"It's funny because of the way that our show is airing in other countries," Rutledge said. "It's fascinating to see...We sort of forget that other people can see the show in other parts of the world. What you hope is that all the people that we see over there will love the show and have seen it. We always try to be very delicate in the way we do things. I'm really excited to get over there."