Find Fantasy, Love And Escape With Erika Jayne's 'Pretty Mess'

Erika Jayne is ready to take over the world of music with her debut solo album of dance pop songs aptly entitled 'Pretty Mess.' Jayne's songs are vividly reminiscent of Madonna
and Britney Spears in their heyday. Jayne brings with her a new twist that has the listener able to enjoy a fantasy life in some secret part of their brain, allowing the listener to escape and get away from life for a bit. We recently had a pleasure of sitting down with Jayne to discuss 'Pretty Mess.'

Starpulse: Hi Erika!

Erika: Hi!

SP: Good to see you!

Erika: Thank you. You too!

SP: I took a listen to 'Pretty Mess' and I couldn't help but feel as though it comes across as being a great affair. It's a sexy album. It gave me the feeling as though I had spotted a cute girl across the room at a club, we talked, things got hot and heavy as the album goes along and then there's cuddle time - the cuddle time occurred during 'Love Forever' by the way - and then it gets hot, steamy and heavy again. Did you set out to make a sexy and sensual album?

Erika: I did, and you know what, you hit the nail right on the head. It is a love affair. (Laughing) I mean, that's a great way of describing it! Good for you!

SP: Why thank you! What was the idea behind naming the album 'Pretty Mess'?

Erika: Well, the song Pretty Mess, I think is a lot of fun and it's about all of the roles that women play. Sometimes you're a temptress, sometimes you're a friend and sometimes you're a princess. I just thought it kind of summed up the whole feeling and the mood of the album.

SP: People say that you're the next Madonna or the next Britney, you actually kind of come across to me as being the next or first female version of Billy Idol in that you make sexy and sultry songs. Do you think you're the next anyone?

Erika: No, I'm just me.

SP: You're just you, good.

Erika: (Laughing) The next [so and so] is no such thing.

SP: Out of those three whose career would you most like to have in yourself?

Erika: Career wise?

SP: Yeah.

Erika: Madge's. Madonna's career. Billy I don't think is making records. Britney's doing her thing and so career wise, Madonna, yeah.

SP: Each song has its own flavor and beat that allows the listener to visualize a different place and era in each song. How would you describe your music?

Erika: I describe it as sensual, fun, sexy, escape, fantasy.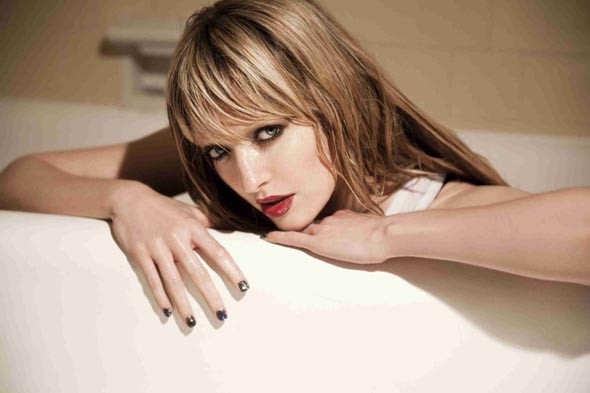 SP: I know Prince is one of your big idols. What was it like working with Sheila E.?

Erika: Sheila is also one of my absolute favorites. I have nothing but love and respect for her. She's an amazing musician and it was a dream come true working with Sheila.

SP: Everybody Wants Some sounds like it starts off with an accordion in the beginning?

Erika: That's right. Kind of French! It gives you that French café kind of feel for a few seconds.



SP: Is the accordion then sampled in throughout the beat? I couldn't quite tell.

Erika: I'm not quite sure. I'd have to go back and listen to it. I haven't listened to that song in a little bit. (She starts singing Everybody Wants Some to jog her memory). I don't know if it appears again. Why do you ask?

SP: You don't usually hear the accordion in pop and dance music, the accordion. It sounded great. I was going to ask where the idea of putting the accordion in there came from.

Erika: Well, you know, it's just a different flavor. That's just kind of the song. It speaks visually [in that] the accordion takes you to a different place. It takes you to Europe in a way.

SP: You managed to get some big, heavy hitters to come in and produce Pretty Mess in the form of Peter Rafelson(Madonna, Britney Spears, Stevie Nicks) and Eric Kupper (Shakira, Destinys Child, Kylie Minogue). They're essentially pop and dance royalty. How was it working with them?

Erika: I love them both very much. I met Eric through Peter. [We] had an amazing time working on the album. They're both lovely. Yeah, I like them both.

SP: Any tour plans in the works?

Erika: I've been performing. I have a show next week in Hollywood, and we're going to Vegas. We're getting ready to promote the album to the fullest extent.

SP: What can people expect with a live show?

Erika: We're singing and dancing. I have my four beautiful boys with me, whom I love dearly. We have a really good time on stage.

SP: What's one last thing you'd like the world to know about Erika Jayne?

Erika: Come check out the album August 11th. Pretty Mess. If you need a little fantasy, love or escape in your life, this may be it.



Story by Eric Stromsvold

Starpulse contributing writer