Finalists Revealed On 'Dancing with the Stars All-Stars'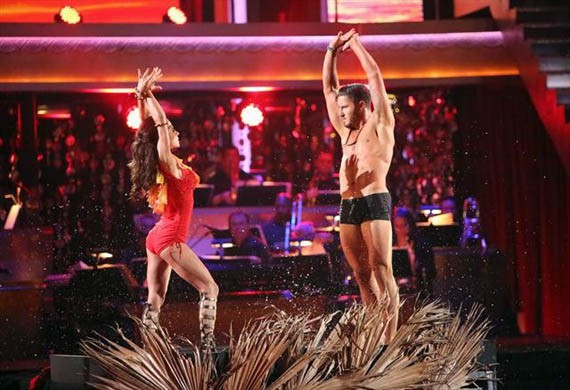 On the "Dancing with the Stars" semi finals results show the three finalists were revealed in a performance filled night. 
After the encore performance of a Rumba to "Man in the Mirror" from Apolo and Karina; host Tom Bergeron revealed the names of the first couple to make it in the finals – Shawn and Derek.
New Zealander Paris Goebel performed with her troupe in a dance style that she created along with the team.  Paris also opened her own dance school.  British boy band The Wanted performed a medley of "Glad You Came" and "I Found You".
The next results not only revealed the next couple in the finals; but also the first of two eliminations for this week when Tom Bergeron said that the couple with the lowest score and votes was Apolo and Karina despite earning a perfect score for their Rumba; but Melissa and Tony, who also earned a perfect score for one of their dances, would be moving on to the finals. 
In what Tom Bergeron called one of the coolest things ever done on the show, entertainer Paula Abdul performed a medley of her number one hits in the Macy's Stars of Dance that included groundbreaking elements both live and virtual.
DWTS pro Derek Hough joined four other dancers for a Modern Contemporary routine to the original song "Heart Cry".  A musician as well as a dancer, Derek went into the studio to help in creating the music.
The final results left Emmitt and Cheryl or Kelly and Valentin as the last couple in the finals and the other going home.  With the elimination of Emmitt Smith and Cheryl Burke, the finals included three women celebrities when Kelly Monaco and Valentin Chmerkovskiy advanced to the finals.
In next week's finals the couples will have to perform three dances over the two night finale – a production sized free style with extra dancers, the couple's favorite dance, and an instant dance of results night.