Final Notes From Tribeca Film Fest 2010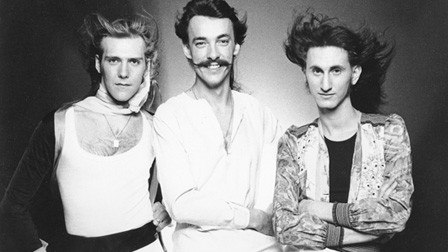 Tribeca ending for me is like the Winter Olympics ending for Russians or the FIFA World Cup ending for... well, me. It's a whole month of very intensive exposure and when it's over it's almost like being laid off from a job. And I can't let this year's festival fade from my memory without sharing a few final thoughts that I've made note of.
This was an especially strong year for documentaries. The Heineken Audience Award this year went to a rockumentary called Rush: Beyond the Lighted Stage. For a band historically as great as Rush that never quite makes it into the discussion of greatest bands of all time, directors Sam Dunn and Scot McFayden do a magnificent job of showing the human side of Geddy Lee and Co. in a surprisingly casual light—casual because all of the rockumentaries in film history have to show its subjects as mythical gods whose mystery transcends their mortality. Here, the band are regular guys who ended up touring relentlessly because it was a job, and they created these epic prog masterpieces because the guy in the band who wrote the lyrics was the only one who liked to read a lot. Their mothers are interviewed, and they embarrass their sons. It was all quite fantastic.
On the other hand, my pick for top documentary has to go to ESPN's 30for30 doc The Two Escobars, a telling story about Colombia's narco-soccer era and the lives that the country's two most famous Escobars—drug cartel kingpin Pablo and soccer superstar Andres—lived during one of  the country's most bloody and celebrated times. I could tell you more about it but I'm waiting for the ESPN premier to bust out with my full review. Just know I'm giving it a AAA grade.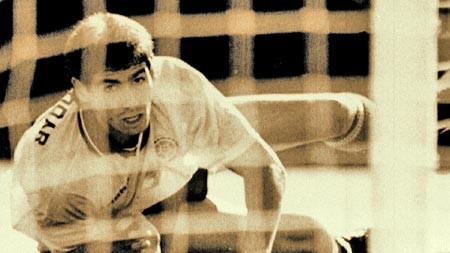 When paparazzi bust out with their long lens over your shoulder, you should have your camera phone ready. Granted, a film festival is probably not the time to buy a new high-tech cell phone and try to work out it's camera menu, especially when you're standing an arm's length from the beautiful Jessica Alba. (Oh, well . . . )
The Festival succeeded in making me bawl my eyes out this year, and I didn't even see it coming. A little family film called Snowmen, a story about a little boy who's dying of cancer who decides that he doesn't want to die without leaving his mark on the world, and sets out to rectify this by setting a Guiness World Record in something, anything. Everybody was crying, so I didn't feel so embarrassed, but truthfully I hadn't cried so hard since E.T. — do you know how long ago E.T. was made? That's a long time!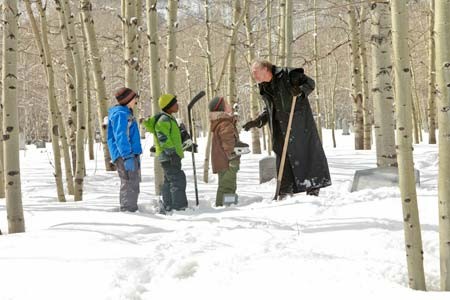 From what I understand, this film has absolutely no distribution as of this press release. I'm on record to say that if Snowmen doesn't make it to theatre, it will be a shame, because this is a must watch on DVD.
And finally, I remember three years ago when I covered the Tribeca Film Festival for the very first time, how many New Yorkers didn't know about it. I'd tell people that I was covering it and they'd make a face, and usually I'd get a lot of "Oh, that's neat. So they play movies?" And this year, when I'd tell people I'd get the Elaine Benes "GET OUT!" There's always something elitist about walking around town with a Tribeca badge strapped around your neck. Strangers approach you at street corners and train stops and, when they realize I write for press immediately want to know what films they should go rush for. And maybe there is some justification in feeling a little elitist about it. It's one thing to write reviews on this column and give grades and really advocate for things that I may believe in, but it's a whole different experience when a couple of strangers walk up to you with their screening program in hand and they're fumbling through it like tourists, and when I tell them, "You should definitely make time out to see Heartbreaker," they nod and point and scan through the synopsis and nod their heads like I just told them what train transfers will get them back to their hotel the fastest.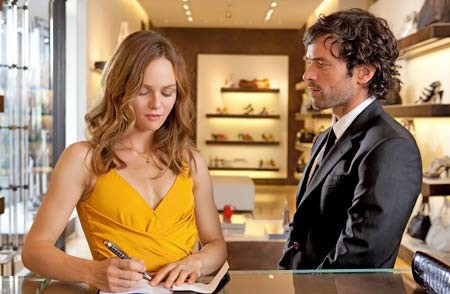 I love Tribeca, and there's so much more that could be said and could've been written (Director's interviews? If their films make it to IFC you betcha) but . . . there's a line that exists when you're writing about something that most other people will never be able to experience. Three years ago I wrote all my reviews and posted them alongside my director's interviews, but I'm not sure quite what incentive a person has to read through a conversation about a film that they've never heard of and may likely never see. And maybe, just maybe, it's not the point. Maybe I could stand to be a little elitist.
My Tribeca Top Five (in no particular order): Snowmen, Dog Pound, Two Escobars, When We Leave, Heartbreake