Final Installment Of The Best-Selling 'KISSology' In Stores Dec. 18

The
KISSology
DVD Series has proven itself a smash hit success with Volume One reaching 5 Times Platinum and now Volume Two reaching an unprecedented 6 Times Platinum sales success!
KISS
Fans can complete the ultimate KISS set this December when VH1 Classic Records releases "KISSology: Volume Three 1992-2000" the third and final installment of the
KISSology
collection on DVD Tuesday, December 18, 2007.
The set jumps right into 1992 with a complete performance recorded at the Palace of Auburn Hills in Detroit and goes straight through June 2000 with "The Last KISS" concert recorded at The Continental Arena in New Jersey. The grand finale brings the
KISSology
trilogy full circle, leaving audiences with the entire Coventry Concert. The milestone concert marks the first show of KISS in make-up captured on camera. The concert was sneaked on Volume One as an "Easter Egg" but can be seen in full-length for the FIRST TIME EVER on DVD.
""We knew that there would be strong demand for the
KISSology
series, but we are very pleased with its multi-platinum levels of success," said Paul DeGooyer, Senior Vice President, DVD/Audio/Electronic Games, MTV Music Networks and Logo. "We've truly enjoyed working with KISS to deliver this comprehensive anthology to their legions of fans. It's always exciting when creative and commercial success coincide."

A must-own for any KISS fan, the nearly ten hours of live KISS includes a total of six complete concerts, the MTV "Unplugged" show and an exclusive MTV "Unplugged" Behind-the-scenes documentary in the super expanded four disc set.
KISS has sold 80+ million records throughout their career. The group has earned more than 55 gold, platinum and multi-platinum awards since receiving its first gold record for "KISS Alive!" in 1975. KISS has performed more than 3500 concerts in front of nearly eighty million fans in virtually every country on planet earth.
Launched in May 2000, VH1 Classic is a 24-hour network that presents videos, concerts and music specials all day long, featuring the best of rock, soul and pop artists from the 60s, 70s, 80s and early 90s, including The Beatles, The Stones, Tina Turner, Led Zeppelin, Marvin Gaye, The Who, Stevie Wonder, The Police and many more. Learn more at www.vh1classic.com.
With the same pristine, digitally-restored video as Volumes One and Two, and coupled with a 5.1 audio mix, Volume Three features stunning visual quality and impeccably detailed sound designed to meet the approval of the most demanding KISSmaniac.
"KISSology: Volume Three 1992-2000" is produced by Alex Coletti and co-produced by Roger Coletti.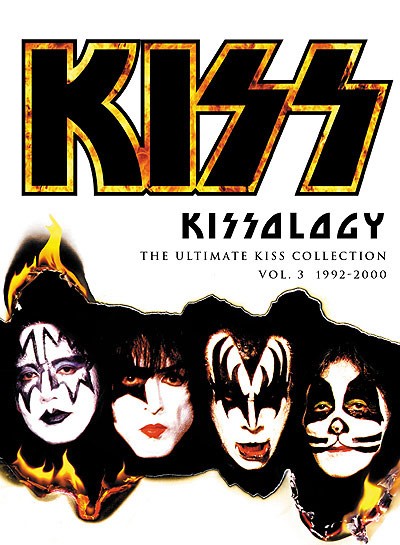 Watch:
"Nothin' To Lose":
Quicktime
|
Windows
"Detroit Rock City":
Quicktime
|
Windows
KISSology
: The Ultimate KISS Collection Vol. 3 1992-2000
Track Listing
Disc One
The Palace Of Auburn Hills, Detroit, MI, 11/27/92
Creatures Of The Night
Deuce
I Just Wanna
Unholy
Parasite
Heaven's On Fire
Domino
Watchin' You
War Machine
Rock And Roll All Nite
Lick It Up
Take It Off
I Love It Loud
Detroit Rock City
God Gave Rock 'N' Roll To You II
Love Gun
Star Spangled Banner
MTV Unplugged: Behind The Scenes 1995
MTV Unplugged 8/9/95
Comin' Home
Plaster Caster
Goin' Blind
Do You Love Me
Domino
Got To Choose
Sure Know Something
A World Without Heroes
Hard Luck Woman
Rock Bottom
See You Tonite
I Still Love You
Every Time I Look At You
Heaven'S On Fire
Spit
C'Mon And Love Me
God Of Thunder
2,000 Man
Beth
Nothin' To Lose
Rock And Roll All Nite
Disc Two
Tiger Stadium; Detroit, MI, 6/28/96
Deuce
King Of The Night Time World
Do You Love Me
Calling Dr. Love
Cold Gin
Christine Sixteen
Love Gun
Shout It Out Loud
Watchin' You
Firehouse
Strutter
Shock Me
Rock Bottom
God Of Thunder
Let Me Go, Rock 'N' Roll
100,000 Years
Rock And Roll All Nite
MTV VMA Performance; Brooklyn Bridge 9/4/96
Rock And Roll All Nite
New York Groove
Deuce
Calling Dr. Love
Love Gun
Dodger Stadium; Los Angeles, CA 10/31/98 (Part One)
Psycho Circus
Shout It Out Loud
Let Me Go, Rock 'N' Roll
Shock Me
Do You Love Me
Calling Dr. Love
Firehouse
Cold Gin
Nothin' To Lose
She
I Was Made For Lovin' You
Disc Three
Dodger Stadium; Los Angeles, CA, 10/31/98 (Part Two)
Into The Void
Love Gun
Within
100,000 Years
King Of The Night Time World
God Of Thunder
Deuce
Detroit Rock City
Beth
Black Diamond
Rock And Roll All Nite
Detroit Rock City
Premiere Party; Los Angeles, CA, 8/9/99
Detroit Rock City
Shout It Out Loud
Cold Gin
Rock And Roll All Nite
The Last KISS
Continental Airlines Area; East Rutherford, NJ, 6/27/00
Detroit Rock City
Deuce
Shout It Out Loud
Firehouse
Heaven'S On Fire
Let Me Go, Rock 'N' Roll
Shock Me
Psycho Circus
God Of Thunder
100,000 Years
Love Gun
Black Diamond
Beth
Rock And Roll All Nite
Disc Four
Coventry; Queens, NY, 12/22/73
Deuce
Cold Gin
Nothin' To Lose
Strutter
Firehouse
Let Me Know
100,000 Years
Black Diamond
Let Me Go, Rock 'N' Roll
Produced By Alex Coletti
Co-Producer Roger Coletti
(Streaming audio and/or video links may expire without notice)