'Final Destination 5' Poster Banned In Britain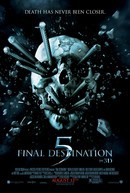 A poster for Final Destination 5 has been banned in the U.K. by officials who ruled it was "likely to cause fear and undue distress to children."
 
A gory promo picture for the film, starring actress Emma Bell, was used on buses and in the London Underground, but the shot upset some passers-by, who complained to the Advertising Standards Authority (ASA).

They claimed the graphic image of a skull being shattered by steel rods driven through its mouth and eye sockets was unsuitable for public display, and chiefs at the advertising watchdog have agreed with them.

ASA bosses ruled the offensive advert must not appear again in its original form, adding, "We considered the image was likely to catch the attention of children, especially because it was shown on a poster on the Underground, where it was an untargeted medium. Because very young children might view this ad depicting violence, it was likely to cause fear and undue distress to children."

A spokesman for the film's distributor, Warner Bros., claimed the posters are "surreal" and "unlikely to engage the attention of young children."