Film's Most Memorable Football Coaches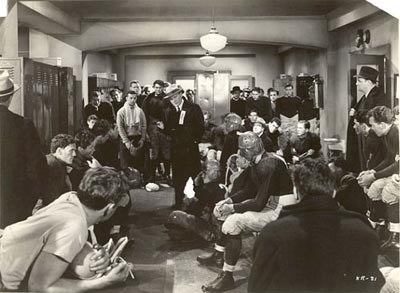 With football season right around the corner, it's time to take a look back at the way Hollywood has immortalized coaches over the years. While most football movies focus on the players, a few have turned their eyes to the men (and women) calling the shots, giving us several good and bad portrayals of coaches.
Tony D'Amato,
"
Any Given Sunday
"
Oliver Stone
's let's-throw-it-all-together-and-see-what-sticks football opus has its faults, but one of them is not
Al Pacino
's performance as the coach of the beleaguered Miami Sharks. Stone coaxes one of Pacino's last great efforts by allowing the actor to mix his over-the-top antics and his subtle nuances as D'Amato, the coach who has to somehow make a cohesive team despite interference from his owner, an insurrection in his coaching staff, an upstart young QB and a drug-dealing team doctor. It all culminates in Pacino's climactic "Peace by Inches" halftime monologue - one of the best motivational speeches ever captured on film.
Herman Boone, "Remember The Titans"
Yeah, the movie's kind of Disney-fied, but there's no denying the solid work done by
Denzel Washington
as the coach who helps lead the integration of a Virginia high school football team in the turbulent 1970s. Washington's got the kind of iconic presence and athletic chops necessary to pull off playing a coach, and he gets help from an up-and-coming group of actors and veteran character actor Will Patton. Plus, since this is a Disney flick, Washington gets the opportunity to have several big speeches filled with swelling soundtrack music to get you all fired up about racial harmony and football.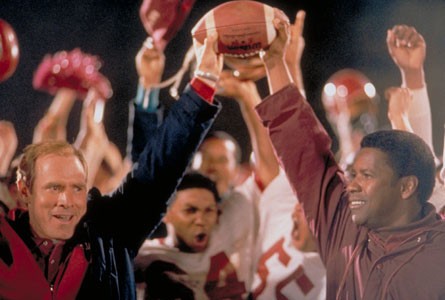 Image © Buena Vista Home Entertainment, Inc.
Molly McGrath, "Wildcats"
Back when
Goldie Hawn
was at her perkiest, the notion of her playing a football coach was inconceivable, which is why this underdog comedy worked so well. Hawn plays a high school track coach with a encyclopedic pigskin knowledge, but no opportunity to show it. That changes when she gets a shot to take over the ragtag football team despite the objections of nearly everyone. Wildcats is a formulaic film, so you know what's going to happen, but it's a lot of fun, and it features Hawn at her daffy best as well as the film debuts of
Woody Harrelson
and
Wesley Snipes
.
Gary Gaines, "Friday Night Lights"
Peter Berg
's breathtaking adaptation of Buzz Bissinger's groundbreaking book about high school football in Texas is anchored by
Billy Bob Thornton
's portrayal of the Permian High coach. No, there aren't a lot of showy scenes or big screaming jags, yet Thornton wholly invests the character of a man conflicted by the win-at-all-costs mentality of where he lives and works vs. the betterment of the young men who play for him. "FNL" is one of the best sports movies ever made, and a big reason for that is Thornton's work.
Bud Kilmer, "Varsity Blues"
On the other end of the spectrum from Thornton's nuanced work is the over-the-top effort by
Jon Voight
in this vastly inferior "Friday Night Lights" knockoff. In one of those so-bad-it's-good performances, Voight chews the scenery as the town's tyrannical football coach who will stop at nothing to win another state title, even if it means resorting to every dirty trick in the book. No, "Varsity Blues" is not a good movie, and it hasn't aged well. But the one thing it has going for it (along with the whipped cream bikini scene) is Voight's gonzo coach.
Sam Winters, "The Program"
James Caan
's coach in this college football classic may have been a legendary on-the-field general, but given the troubles that his players got into off the field, he probably should have been paying more attention to them than to Xs and Os. Somehow - a testament to his coaching ability - Caan's character manages to pull this collection of ne'er-do-wells together to lead fictional Eastern State to a bowl game and get the boosters off his back.
Knute Rockne, "Knute Rockne All American"
An oldie-but-goodie, this biopic of arguably one of the most famous coaches in football history is noteworthy for a couple of reasons. First, former President
Ronald Reagan
played doomed Notre Dame player George Gipp. And second was Pat O'Brien's turn as the coach, capped off by his oft-quoted halftime speech in which he exhorts his team to "go out there … and win just one for the Gipper." Who cares if the story is apocryphal - the real Rockne concocted tales all the time as motivational tools - it's a great line that everyone remembers.
Story by
Elliott Smith
Starpulse contributing writer