Filmmakers Want Stevie Nicks Fans To Feature In Documentary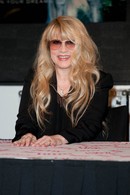 Filmmakers behind an upcoming Stevie Nicks documentary are giving fans the opportunity to star in the movie by sending in "rambunctious or crazy" testimonials about what the singer's music means to them.

Producers at Weapons of Mass Entertainment have shot a behind-the-scenes documentary about the making of Nicks' new album In Your Dreams and her work with producer pal Dave Stewart, but they are now calling on devotees to get involved and possibly land a spot in the film.

In an online post, executives write, "Hello Stevie Nicks fans! As many of you may have heard, a documentary film on the making of Stevie's latest album In Your Dreams is currently in the works and in the late stages of editing and post production.

"We here at Weapons of Mass Entertainment have realized we need another element to add into the movie, and that element is YOU!! We are looking for short video clips to add into the film from Stevie's fans themselves.

"On your webcams (or any other desired video recording medium), we would love if you would record yourselves telling Stevie what she and/or this record might mean to you. More than likely, she will see these, so feel free to speak as directly as you wish.

"Also, if you want to get a little rambunctious or crazy within the testimonial, go for it!! The more sincere or the more energetic, the better."

Fans have until February 1 to submit their entries.