Film on DVD: 'Life As We Know It' [Blu-Ray]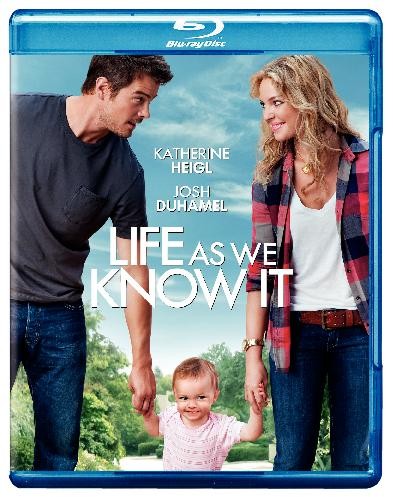 If you're looking for a movie to start your Valentine's Day weekend off with, WB released the Josh Duhamel-Katherine Heigl romantic comedy Life As We Know It on Blu-Ray and DVD Tuesday. Here's a look at what's inside the Blu-Ray combo pack version of the release.
The Movie
Life As We Know It is not breaking new ground - it reminds me of a Lifetime TV-movie called Raising Waylon in many respects - but I feel safe in saying that we don't generally expect romantic comedies to be groundbreaking. We go to them because they're familiar and feel-good.
What tends to separate one romantic comedy from the next are the actors. As such, your enjoyment of this movie is going to hinge on your enjoyment of the two leads, Katherine Heigl (Grey's Anatomy) and Josh Duhamel (Las Vegas). I've never had a strong opinion toward either actor one way or the other, which is probably why I also don't have a strong opinion about the movie. No amount of quips or funny situations (some of which have that "only in a movie" feel to them) can make up for whether or not you embrace the core relationship, and I wasn't pulling for the two of them to get together. I knew that they were going to fight and banter, and I knew that they were going to eventually fall in love, but I wasn't necessarily excited for them to get there.
The presence of Josh Lucas and Jean Smart in supporting roles only made me think of Sweet Home Alabama, which has to be one of my favorite romantic comedies; Life As We Know It just doesn't have the same sparkle as that movie. It's a fun watch, but I'm not sure how often I'll rewatch it. It was certainly familiar and feel-good, but not memorable.
The Blu-Ray Discs
There's two packaging notes here: like other recent releases from WB Home Entertainment, this Blu-Ray case has cutouts in the plastic, so parts of it are essentially protected by little more than the paper cover. Having seen a few of these cases recently, however, I'm starting to believe that these kind of cases are common for WBHE titles. The other is just for reference: the DVD/Digital Copy disc is underneath the instructions on the left-hand side of the case.
There are forced trailers here, for Blu-Ray and for the WB Insider program. They take you to some easily navigable menus. There are four spoken audio tracks (English, French, Spanish and Portuguese) and those same languages are also available in the subtitles; all those options can be accessed under "Languages." You also have options for scene selections and special features.
Presentation-wise, the film looks pretty good, though it seems dark at times, with the blacks getting a little murky in some scenes. The sounds also's serviceable. It's not a presentation that I'd use to show off my Blu-Ray player, but it's not going to disappoint.
The Special Features
This is another one of those titles that not-so-subtly nudges you toward upgrading to Blu-Ray; I haven't seen the DVD box, but the back of the Blu-Ray case says that the major special features are exclusive to Blu-Ray, "plus additional scenes." That leads me to think the only special features on the DVD are those deleted scenes. It's a disappointment if you haven't upgraded, but it's more common than not these days.
The features here, though, are more cute than anything else. Here's what you get:
A Survival Guide to Instant Parenting: Katherine Heigl, Josh Duhamel, Jessica St. Clair, Melissa McCarthy, Andrew Daly, Bill Brochtrup and Will Sasso give parenting advice. Daly is the funniest one of the bunch to me, but I've always found him hilarious since Lewis Black's Root of All Evil. (7:12)
Katherine Heigl: Becoming The Best Mom Ever: A little featurette on Heigl's experiences on the film. (5:56)
Josh Duhamel: The Triplet Tamer: The same thing, except with Duhamel. (5:16)
Deleted scenes
For better or for worse, there's not a traditional making-of here; rather the special features choose to focus on the two lead actors. Much like the film itself, whether or not you get anything out of these short featurettes is going to be based on how much you like them. All the special features are fairly short, and light on substance; they're fun, but again, there's not a lot of rewatch value.
The Bottom Line
Life As We Know It and its special features will be enjoyed most by fans of Katherine Heigl and Josh Duhamel. For the rest of us, it's a light, fairly standard romantic comedy that isn't much different from the rest - for better and for worse. I'd give this one a rent before you buy.