Film Company Buys Into Joaquin Phoenix Documentary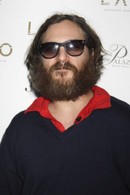 Remember in 2008 when Joaquin Phoenix seemed to go off the deep end? He announced his retirement from acting on his knuckles, launched a rap career and grew a pretty awesome looking homeless man beard.
Apparently Magnolia Pictures has acquired the film "I'm Still Here: The Lost Year Of Joaquin Phoenix" which was filmed and directed by brother in law Casey Affleck. The film will hit theaters on September 10 of this year with plans to go wide the following week.
Was the whole thing a prank or was it real? Apparently there is some pretty outlandish stuff in this film that leaves the viewer unsure.
According to an LA Times writer who viewed the film, "Several buyers said the film overflowed with Hollywood debauchery, including more male frontal nudity than you'd find in some gay porn films and a stomach-turning sequence in which someone feuding with Phoenix defecates on the actor while he's asleep."
Hoax or not, someone paid some green for thing and it doesn't appear to be going straight to DVD.