'Figure It Out' Host Jeff Sutphen At Top Of His Game (Show)
"I look at what I do for 'work' - air quotes - and I have the best job in the world," Jeff Sutphen remarks. As the host of Nickelodeon's Figure It Out, he gets to watch celebrities guess the hidden talents of kids - and often get slimed in the process.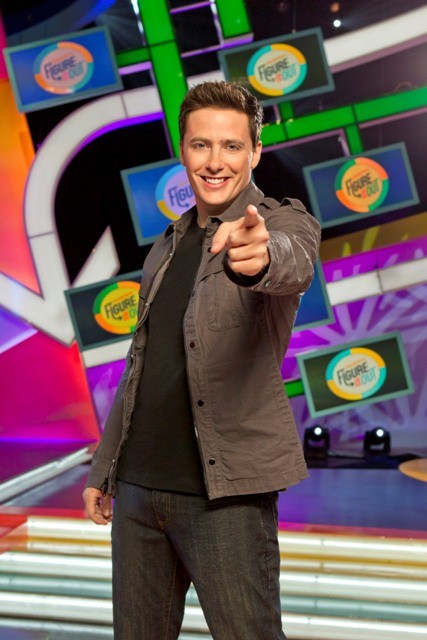 It's a revival of the series that became a cult hit when it first aired from 1997-1999 and was hosted by Olympian Summer Sanders. "I'm not entirely sure [what led to the show's return]," Sutphen tells me during a recent conversation. "There's a desire to have game shows back. We did three seasons of [his previous show] BrainSurge, and that game show did well. Figure It Out was a popular game show when they did it 15 years ago and I think they said, 'Why don't we bring Figure It Out back?'
"Our audience loves to see the Nickelodeon stars do the stuff they don't normally do," he adds. "They know them so well as their characters, but it's seeing them in a completely different light." Celebrities who have been on the series so far include James Maslow (Big Time Rush), Victoria Justice (Victorious) and Rachel Crow (The X Factor).
For Sutphen, the history of Figure It Out presented both challenges and benefits. "The bar was set really high," he explains. "I was like, 'No matter what I do, they're always going to compare me to what it was in the past.' I want those fans to be happy with it, but at the same time but I want our [new] audience to love it just as much as they did 15 years ago."
At the same time, "All the Nickelodeon stars are at that age now when they grew up watching Figure It Out. They would come up to me and say, 'I can't wait to come on. That was my favorite show growing up.' It was really cool hosting a show they all knew how to play. Matt Bennett from Victorious must have memorized every episode of the original Figure It Out. When you're doing something like that, it's so much better because they're just amped to be there and be part of it."
Sutphen shares that enthusiasm, one of the many qualities that makes him an outstanding host. Hosting is about much more than just bringing a lot of energy and introducing segments. With Figure It Out, Sutphen is having just as much fun as the people around him, and feels like he's part of the game rather than just the person moderating it.
He's also well-versed in Nickelodeon game show history, as he's been part of it for a long time, as a host and producer, and a fan before that. "I've been with Nickelodeon for ten years now," he says. "I got hired originally to be a producer on U-Pick Live. Before we started the show, they said 'We've got this small little on-camera part, you dress up as a superhero, would you want to do it?' I started doing that and one thing led to the next. I did that for a bunch of years and I continued to produce stuff for them. A few years ago I was a producer [when] they did My Family's Got GUTS. BrainSurge came about and I got that. I've rounded out my game show experience with Nickelodeon game shows both new and old. They've been an awesome place to work for."
Prior to that, "I grew up watching Double Dare. That was my show. Through all the years I've been working at Nickelodeon, I've gotten to meet [Double Dare host] Marc Summers on a number of occasions. That was awesome for me. I remember one of the first times I was on a Nickelodeon shoot, we were in Florida and the old studio, and they had some of the old Double Dare props there. It was so cool seeing all that old stuff."