'Fifty Shades Of Grey' Begins Filming In Vancouver, Producers Hope To Release Rated R & NC-17 Versions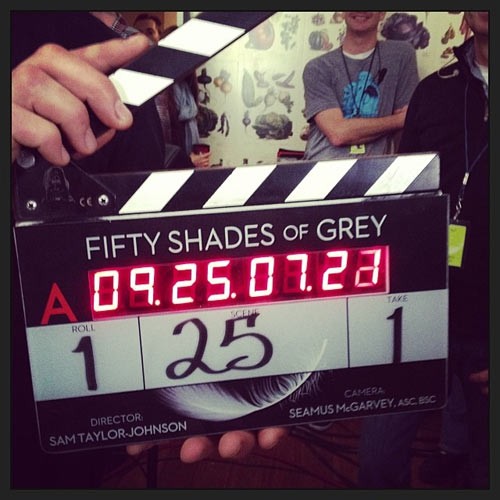 The first photos from the Vancouver set of Fifty Shades of Grey have surfaced, showing stars Dakota Johnson and Jamie Dornan dining together at a cafe.

The two stars look serious in their meeting, as if all the 'fun' has yet to get underway.

Shortly before the photos surfaced, British author E.L. James, who wrote the novel the film is based upon, posted an image of the clapper board used to start the cameras rolling. "Action," she captioned the photo.

Producers of the film plan to release two versions of the film, one to maintain the standards of an R-rating and an unrated or NC-17 version which includes more explicit and graphic sex scenes as depicted in the book but deemed to racy for moviegoers.

"What we're kind of hearing is that they (fans) want it dirty, they want it as close to the book as possible," producer Dana Brunetti tells Collider.com. "We could release the R-rated version, which everyone will enjoy, and then for those fans who want to get a little gritty we could release an NC-17 version a few weeks later.

"That is my idea, but the fans and the studio will benefit from the double dip. We do not want this film to be seen as mommy porn, we want to keep it elevated but also give the fans what they want."

Dornan plays sadistic billionaire Christian Grey, who seduces Johnson's virginal student Anastasia Steele. The story centers on the couple's strictly sexual relationship, which features plenty of bondage and S&M.

"Fifty Shades of Grey" hits theaters in February, 2015.