Fifth Edition Of The Prestige Records/Rudy Van Gelder Classic Jazz Remasters Series In Stores This Week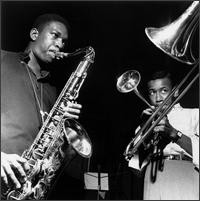 In the fifth edition of the Prestige Records RVG Remasters series, five more classic albums are polished for their February 6 release:
John Coltrane
with the Red Garland Trio:
Traneing In
;
Jackie McLean
:
4, 5, and 6
;
Miles Davis
Quintet:
Cookin
';
Pat Martino
:
El Hombre
; and
Sonny Rollins
:
Plus Four
. Prestige inaugurated its RVG Remasters Series in March 2006 with ten seminal titles, then continued in June, July and September with five more discs each month. Each RVG engineered album includes original and new liner notes, and some albums are augmented by alternate take bonus tracks.

John Coltrane with the Red Garland Trio:
Traneing In
Recorded in one day (August 23, 1957) at Rudy Van Gelder's studio in Hackensack, NJ. this date of ballads and burners features the young tenor saxophonist John Coltrane leading a quartet comprised of pianist Red Garland, bassist Paul Chambers and drummer Arthur Taylor. Liner note writer (original and reissue) Ira Gitler remarks, "In the '50s I was called upon to name many of the untitled songs at Prestige. 'Traneing In' came to me because of the way [Coltrane] homed in after Garland's opening solo [on the song]." This album is significant in that it took place halfway through Coltrane's break with Miles Davis' classic quintet of the '50s and it was the same year that the tenor saxophonist hooked up with Thelonious Monk to record the recently discovered live Carnegie Hall masterpiece.

Jackie McLean:
4, 5 and 6
Alto saxophonist Jackie McLean's 4, 5 and 6, recorded in 1956, was his third album as leader and second for Prestige. The LP at the time helped to establish McLean on the jazz scene. He was joined by trumpeter Donald Byrd (who shines with the altoist on Charlie Parker's "Confirmation") and tenor saxophonist Hank Mobley (also bopping hard on the tune), in a date solidified by McLean's rhythm section: Mal Waldron on piano, Doug Watkins on bass and Arthur Taylor on drums. McLean also plays ballads, including Waldron's sublime tune "Abstraction." Writing in the original notes, Ira Gitler said, "Jackie McLean is musically coming of age. His playing, out of Charlie Parker and Sonny Rollins, has become a personalized, more individual voice in 1956 and he has not lost any of the basic emotion, swinging qualities that help his style live up to the second syllable of his last name so well."

Miles Davis Quintet:
Cookin'
Cookin' With the Miles Davis Quintet is the first classic album of four total that emerged from two marathon and fruitful sessions recorded in 1956 (the other three discs released in Cookin's wake were Workin', Relaxin' and Steamin'). All the albums were recorded live in the studio, as Davis sought to capture, with Rudy Van Gelder's expert engineering, the sense of a club show á la the Café Bohemia in New York, with his new quintet, featuring tenor saxophonist John Coltrane. In Miles's own words, he says he called this album Cookin' because "that's what we did—came in and cooked." What's particularly significant about this Davis album is his first recording of what became a classic tune for him: "My Funny Valentine." Hot playing is also reserved for the uptempo number "Tune Up," which revs with the zoom of both the leader and Trane.

Pat Martino:
El Hombre
Widely recognized today as one of jazz's greatest and most original guitarists, Pat Martino was just 22 when he entered Van Gelder's studio for his debut disc, El Hombre, recorded in 1967. As a sideman, he had played with Jack McDuff, Jimmy Smith, Don Patterson and Groove Holmes, among other B-3 organists, so it wasn't a stretch to hear his first disc be in the soul-jazz groove in the company of B3er and fellow Philadelphian Trudy Pitts. There are galloping tunes as well as tender ballads. In the words of new liner note writer Dave McElfresh, Martino demonstrated "the unique mid- to low-range tone of his guitar, the more-intelligent-than-romantic signature that still defines his style. Such somber, fleet-fingered rants, with each phrase's high notes punctuated like a punch in the mouth, had already—by his first album—come to embody the best of hard bop guitar playing." A stunning debut, El Hombre features originals and a Jobim cover, "Once I Loved." Bonus track is the previously unreleased "Song for My Mother."

Sonny Rollins:
Plus Four
One of the true monumental figures of jazz who is still vibrantly recording and performing, Sonny Rollins was still an upstart tenor saxman in 1956 when he delivered Plus Four, a classic date with the Clifford Brown-Max Roach Quintet (of which he was a member). About the session, which featured Brown in one of his last recording dates, liner note writer Ira Gitler points out, "Within the overall empathy of Brown/Roach were interior connections: Roach, a master soloist himself, with all the soloists; and the bonding of Rollins and Brown." In regards to Rollins' playing of the standards chosen for this date, Gitler adds, "Sonny has always had a head for picking and playing old tunes but he also has used them to write his own lines. He knows a good melody when he hears one and, as a soloist, he is a melodist at any and all tempos." Included on the disc are Rollins originals, "Valse Hot" (a scorching waltz) and the soon-to-be-standard "Pent-Up House."
Streaming Audio:
Sonny Rollins "Valse Hot"
John Coltrane "Traneing In"
Jackie McLean "Abstraction"
Miles Davis "Blues by Five"
(Streaming audio and/or video links may expire without notice)