Fergie 'Very Excited' To Be A Dolphins Owner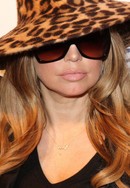 Black Eyed Peas star Fergie insists she's the most knowledgeable Miami Dolphins celebrity minority owner - because she grew up supporting the team.

The singer admits she jumped at the chance to own a stake in the Florida football team and she's determined to help the Dolphins return to greatness.

She says, "My grandfather was a quarterback and my dad was a quarterback and ended up becoming a high school coach... Football Sunday was always a huge day of the week in my home growing up. That would be my dad and I's way to get together... It became our pastime."

"The loudest one in the sports bar would be me, screaming, talking smack, always in my jersey, always a Dolphins fan... I jumped at the chance to become a minority owner. It's a dream come true."

And she's charged up by the team's new acquisition - Kim Kardashian's ex-boyfriend. She adds, "We got Reggie Bush and I'm very excited about that."

Other minority owners of the Dolphins include Marc Anthony and Jennifer Lopez, Gloria and Emilio Estefan and Williams sisters Venus and Serena.