Fergie To Judge Online Singing Contest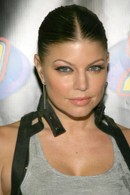 Black Eyed Peas singer Fergie can add talent-spotter to her resume - she's signed up to judge an online singing competition.

The Boom Boom Pow hit-maker has joined British pop star Natasha Bedingfield, Aussie actress/singer Delta Goodrem, and legendary songwriter Diane Warren on the judging panel for Avon Voices.

The contest, run by cosmetics giant Avon, will feature a worldwide search for a star of the future, with the chance to record a professionally-produced album as the ultimate prize.

Anna Segatti, Group Vice President for Avon Western Europe and Middle East, says, "In celebration of Avon's 125th anniversary in 2011, we are inviting people from around the world to come together and showcase their talents... We are thrilled to have music industry legends on board to join us in the hunt for the next big star. If you're an avid singer or songwriter now is really your time to shine and be in with an opportunity to win this once in a lifetime chance with Avon Voices."

Click Here For More Fergie Pictures