Fergie & Josh Duhamel Share Cartoon Christmas Card & 'Charlie Brown Eyed Pea-Nuts' Video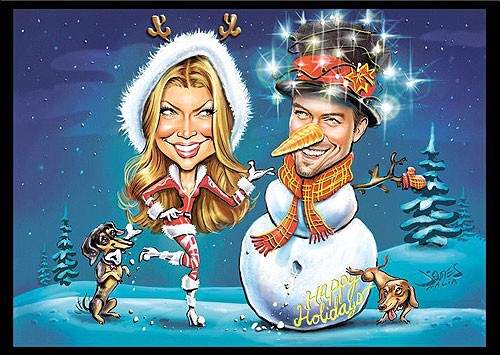 Fergie, husband Josh Duhamel and their two dogs, Zoe and Meatloaf are spreading the Christmas cheer this holiday season with a silly caricature greeting card featuring the couple and their two pets. The card was drawn by artist James Malia.

Fergie posted the image on her Facebook page along with the greeting, "Happy Holidays from Zoe, myself, Josh & Meatloaf! Are you ready for Christmas? xo."
In keeping with the holiday spirit, Fergie, along with fellow Pea apl.de.ap, is also giving fans the chance to hang out with her on New Year's Eve, win $250,000 cash and a whole lot more by helping out Charity Dreams. Check out the video at CharityDreams.com for more details!

The sexy Black Eyed Peas singer posted a video this past Wednesday, too - a mashup of her group's hit "Pump It" synchronized with video from the Charlie Brown Christmas special. Check it out below!

"As many of you may or may not know, I was the voice of Sally & Lucy on Charlie Brown when I was younger. I'm really looking forward to doing more work like this in 2012! Now for your holiday enjoyment, may I present to you The Charlie Brown Eyed Pea-nuts performing 'Pump It'! ;)" she wrote.