Fergie & Josh Duhamel Celebrate Son Axl's Baptism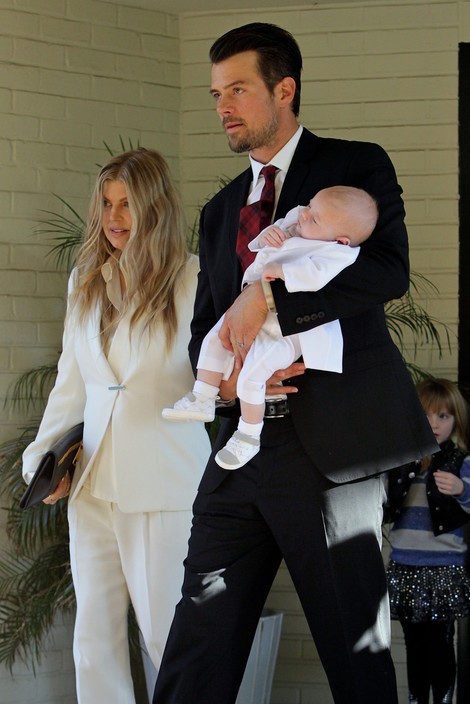 On Thursday afternoon Fergie and Josh Duhamel baptized their son Axl. The pair brought their four-month-old to St. Martin's Catholic Church in Brentwood, Calif.,  and approximately 10 family members and close friends joined them for the ceremony.
The singer wore a smart white suit, while the actor wore a black suit and red plaid tie.
The pop star has admitted she sings funny songs to her son. She told PerezHilton.com last month: "[Axl] inspires me to make ultra corny songs up, and Josh and I harmonize. We're like that couple in 'Best in Show' who sing about their dogs."
She loves her son so much, she doesn't mind when he has accidents. "Baby Axl is amazing. He's the light of my life, my husband, he got, sharted on, I guess you could say, I watched it happen and it was pretty amazing," she told Huffington Post Live in November.
As for her son's rocker name, she told talk show host Ellen DeGeneres about a dream she had where she was on stage singing with Jim Morrison, Bob Marley and Axl Rose.
"I told the story and [Josh] was like, 'Morrison? Marley? No. Axl Jack. That's it!' It just had this ring to it. It was very strong," the Black Eyed Peas star said.