Female Celebrities That Have Not Given Into The Big Booty Craze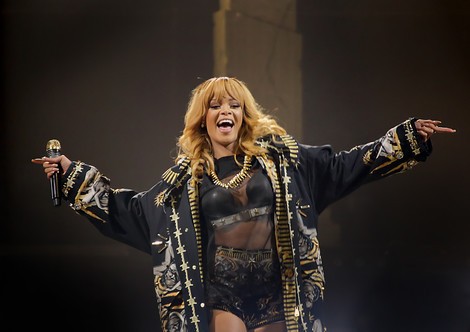 Opinion: Television personalities, female-rappers, and video vixens love toting around big derrieres.  This trend seems to have grown, no pun intended, tremendously in the last 10 years as rap music and their videos have become more popular and quite famous for advertising "big-booty" girls.  While some women have injected, implanted, and padded their average or flat-in-the-back frames, others seem to be staying true to their microscopic behinds.
On Tuesday, Mediatakeout.com, released a video of Rihanna twerking--a dance that women perform to make their butts jiggle.  The singer doesn't let her obvious weight loss stop her.  As a matter of fact, the pop star is so skinny, the only thing that seems to be jiggling is the gap in the front of her jeans due to the garment being too big in the front.  But, have you noticed Rihanna doesn't feel obligated to buy a new booty just because a certain group of men are telling women, "This is what you should look like if you want us to find you attractive?"
Rappers ushered in a whole new body image, for women only, that seems to be making it quite difficult for women to stand alone in their environments and opt out of the ass implant assembly line.  Remember rap videos back in the 90's--MC Lyte, Foxy Brown, even Lil' Kim?  They all appeared on stage and in their music videos with their well proportion bodies. Shooting ahead to about 15 years later brings us rapper, Nicki Minaj.  If there is ever any doubt about whether her bottom half is real, YouTube has some before and after pics.  The rapper has also made public appearances without any additional help for her bum.  However, Minaj's lyrics (a song is usually just what it is--a song) in her duet with Ciara titled, 'I'm Out,' let us know she may have bought into the more gigantic the ass, the better-- "I got a big fat ass/ big d_ _ks follow."  Well endowed men may be following, but some women in the industry are not.
Singers Monica, Brandy, and Ciara should always be added to the list of the women who seem to be at peace with what they have to work.  They still look "normal."  Ciara's BET Awards performance on Sunday has been hailed in the press as being one of the best of the night, and yet, she did it all without an overflow of junk in the trunk.
The butt fascination in the 21st century is a very weird obsession, and it gets weirder.  In the past 5 years, there have been reports of women dying due to injections to the rump, hoping to make it larger.
Women are taking drastic measures to look the way they believe men want them to look.  Nearly every woman on every reality show, regarding their bodies, now look alike--an incredibly large and unnatural-looking backside.  This phenomenon may be doing the total antithesis of women who have bought into the hype planned--making women like Rihanna stand out even more.